Derrahk's Stone Bracers
wondrous, rare (requires attunement)
These bracers have a layer of angularly carved stone fastened over a pair of leather gloves. While wearing them and touching stone or earth with the gloves you gain several effects. If you are not a spellcaster these effects use your constitution modifier as your spellcasting modifier.
As a ranged spell attack you can form a small disk of stone or compacted earth and send it flying at a creature you can see within 60 feet. This does bludgeoning damage equal to 1d8 + your spellcasting ability modifier. If you're able to make multiple attacks with the Attack action, this attack replaces one of them.
You can cast Mold Earth as an action.
As an action you can cast either Earth Tremor or Earth Bind. Once you use this feature you must finish a long rest before you can use it again.
wondrous
armor
rare
Yes
2016-08-27
#37
Charm of the Eye
wondrous, uncommon
This small golden amulet is about an inch across and resembles an eye half closed over an inlaid ruby. It hangs on three frail chains coming from each corner of the eye. While wearing this amulet when you make an opportunity attack against a creature you may make another opportunity attack before the beginning of your next turn so long as the second attack is not against the same creature.
Curse. When a creature puts this amulet over their head it tightens around their temples and the eye snaps open. It cannot be taken off unless the curse is removed and the chains cannot be broken despite their dainty appearance. While wearing this charm you have disadvantage on saving throws against being Blinded, and disadvantage on Wisdom saving throws against Beholders, Death Tyrants and Spectators. If you are charmed by any of these creatures the duration of the charm is permanent unless the curse is removed or the enchantment is broken by Dispel Evil and Good (Break Enchantment).
wondrous
necklace
uncommon
Yes
2018-12-26*
#36
Scarf of Summoning
wondrous, common
This light decorative scarf is a pleasant yellow and just large enough to tie around the neck or use as a bandana. They were made popular after a stellar review by a jungle explorer claiming it protected him from a large ape.
It is not only a fashionable accessory though, once per short rest if the scarf is placed flat over a solid surface and the command word "banana bandana" is spoken a banana appears as the scarf is lifted. This banana is always ripe, but will go bad by the end of the day if not eaten.
Some have tried summoning other things, even just other fruits, but none have yet succeeded.
wondrous
clothing
common
2016-07-04
#35
Sahaguin Stimulant
potion, uncommon
The primary ingredient for this deep red potion is supposedly shark blood. Any creature that consumes the viscous fluid from it's rough wooden cask gains 3d8 temporary hit points and a single action surge (see Fighter's Action Surge) they can use. These each last for one hour, and expire after that time. Any creature that is not a Sahaguin suffers from the Poisoned status the day after they take the stimulant which lasts until they take another long rest.
potion
consumable
uncommon
2017-10-16*
#34
Gentleman's Gloves
wondrous, uncommon (requires attunement)
These white leather gloves always fit perfectly no matter what size your hands are, and can not be dirtied.
A true gentleman never dirties his hands, and these gloves will not attune to you until you do something that would have otherwise dirtied your hands while wearing them.
While wearing these gloves if you are above half hit points you cannot take a bonus action, but you can choose to instead take a bonus action as an action. However, when you drop below half health you are able to take two bonus actions each turn.
wondrous
clothing, gloves
uncommon
Yes
2021-04-10*
#33
Folded Friends
wondrous, common
These 10 inch squares of paper are beautifully flowered on one side and some even gilded. On the other side they are blank except for an intricately inked magic circle. When you find them there are 1d4+1 sheets. When someone begins to fold them they continue folding themselves until they begin to resemble a creature and become animated, although they don't increase in size and only stand a few inches tall. These little helpers last for the next month, until they are damaged, or become wet. They follow commands from whoever began folding the paper.
With a little practice anyone can learn how to create one of the common forms or possibly even something new. The first time you make one of the common forms you must succeed on a DC 12 Dexterity (Sleight of Hand) check. On a success you create the form you tried to make and never have to make this check again for that form. On a failure roll 1d4. On a 4 you are able to use the paper again. On a 1-3 the magic circle is too damaged to attempt it again.
At the DM's discretion you can attempt to create a new form with different effects, which may be more difficult or have new rules.
Humanoid
These little guys can only lift up to 5 pounds but are quite dextrous with their hands, and able to follow rather complex orders. They have a walking speed of 15 and a climbing speed of 5.
Elephant
Their triangular build makes them much stronger than most other transformations and they are able to carry and lift up to 15 pounds. They aren't smart but they can still follow simple two or three word commands. They have a walking speed of 10.
Bird
Unfortunately unable to sing, this little bird is able to carry messages written on it, or with it, to a specific location. If shown on a map where to take it and told to "fly" it will be able to navigate exactly to where you pointed, and do its best to fly around storms. It can also return to where it was folded by being told to "go home". They have a flying speed of 30 and a walking speed of 5.
wondrous
common
2018-03-06*
#32
Satchel of Subpar Sorting
wondrous, common
This satchel appears in every way to be a Satchel of Superior Sorting and functions very similarly, it is a failed experiment by the same sorcerer that created the Sorting Satchel after all. But each time a pocket is created if there are more than 10 pockets total roll 1d20. On a 1 pick a pocket at random and that pocket is emptied into another dimension.
wondrous
storage
common
Yes
2016-06-30
#19
Dryad's Grapes
wondrous, common
This odd gift made by a forest dryad appears to be a large cluster of oddly colored grapes. Truly though it is alive, and each day at dawn it grows 2d10 new purple spheres the size of a small marble. While they make look very much like a fruit on closer inspection each sphere is a shiney bulb of wood which is quickly made obvious to anyone who attempts to eat them. All "grapes" that have been plucked off the vine wither and grow mushy by the end of the day, making them useless.
These little wooden spheres are easily plucked off and the bunch can hold up to 50 of them before it stops growing more. As a bonus action a creature can grab a handful of the wooden orbs and scatter them on an adjacent space. Each time you do this it costs 20 grapes. Any creature moving from or through this space must make a DC 10 Dexterity check or fall prone. A creature does not have to make this check if they move at half speed. If you do this twice on the same square any creature moving from or through this square must make the Dexterity check at disadvantage.
wondrous
common
2019-02-27*
#28
Desert Wanderer's Friend
scroll, common
When unrolled this scroll slowly lofts into the air just above head height and expands to create a 30 foot by 20 foot floating canvas, casting a lovely patch of shade. It will remain in the location it was opened for the next 10 hours before it sinks to the ground and dissolves into sand.
scroll
common
2016-06-30
#29
Lover's Link
tattoo, common
This is one of the most graceful magical tattoos, it's the first name of your loved one in a flowing script directly over the heart. This is a tattoo that is rare to find, as it's one thing to be in love, and it's another thing to never love again. If the partners are separated they can know the other is alive from the faint pulse coming from the tattoo. If the partner dies however the tattoo will shrivel and leave a scar where it once was, leaving the surviving partner to never love again. They may find those that they care for but they will never be able to find romance from that moment on.
tattoo
common
2019-02-26*
#23
Eyes of the Blind
tattoo, uncommon
This tattoo is a circular design, usually in purple or red, on the neck or back of the head. It's typically shared between blind and visioned siblings. When the tattoo is finished the left eye of each creature hazes over and they are unable to see from it.
Once per short rest either of the tattooed creatures can choose to see through their partner's eyes as an action. For the next hour or until this effect is ended as an action the creature that activated this effect can see through the eyes of their partner instead of their own. During this time each of the creature's left eyes are no longer hazed over and become the color of their partner's eyes.
tattoo
uncommon
2019-02-26*
#24
Bond of Paternity/Maternity
tattoo, common
For this tattoo a small design resembling a birthmark is carefully inked on a baby or child and an adult. The child takes on a familial resemblance to the adult as it grows and is generally accepted by others as the progeny of the adult. After one year the strength of the bond deepens and requires magic/divine intervention to reveal or remove. if the child finds out about the mark (by themselves, through magic, or otherwise) after the period it takes to disappear, over the next year the effects of the bond wear off and they shed all familial resemblance to the adopting parent. Additionally, they may even grow to resent the parent for their lie, even if the parent was kind to them.
tattoo
common
2019-02-26*
#26
Bond of Battle
tattoo, uncommon
These tattoos are popular amongst military units. This tribal forearm tattoo allows stupendous synchronization in battle, giving the pair of creatures +1 AC when standing within 10 feet of each other. Their movements almost seem as if they know exactly what the other is going to do next. However without their bonded partner they appear to be missing part of their senses and while farther than 30 feet from the bonded creature they both have disadvantage to Perception checks.
tattoo
uncommon
2019-02-26*
#25
Band of Brothers
tattoo, uncommon
The closest of comrades, and often siblings get these wide banded wrist or ankle tattoos. Creatures who share this tattoo know the general direction of their tattooed partner at all times. Whenever the bonded "brother" is suffering or in danger the other can feel twinges of pain from the tattoo. Additionally, they gain advantage to all checks to find or assist their brother when they are in peril. When a tattooed partner perishes the other feels intense agony throughout their body originating in pulses from the tattoo and loses 10 years of their own life.
tattoo
uncommon
2019-02-26*
#22
Extract of Poison
potion, uncommon
A fizzing clear liquid fills this small flask the size of two thumbs. If it is consumed the creature that consumed it suffers from the condition Poisoned until their next long rest and must make a Constitution saving throw DC 14 every minute for the next hour. On a failure the creature is paralyzed. On a success if they are paralyzed they are no longer paralyzed. After three successful saves (they do not have to be consecutive) or after 1 hour the effect ends and the creature is no longer paralyzed, however they remain Poisoned.
potion
consumable
uncommon
2016-06-24
#15
Extract of Lightning
potion, uncommon
This vial is extraordinarily tall, almost as long as a man's forearm. It's capped with a flat metal stopper etched in a fractal pattern. It has no visible liquid in it yet it feels as though it sloshes, and it produces a dim light out to 5 feet. When opened all creatures in a 20 foot line must make a Dexterity saving throw DC 14 as a bolt of light lashes out creating a small clap of thunder that can be heard from 100 feet away. On a failure they take 4d6 Lightning damage, on a success they take half. If it's shattered all creatures within a 10 foot radius take 1d6 lightning damage and must make a constitution saving throw DC 14. On a failure they are blinded for 1 minute. They may repeat this saving throw at the end of each turn.
potion
thrown
uncommon
2016-06-24
#13
Extract of Fire
potion, uncommon
This glass globe has no visible opening on its dark clouded surface, and it is warm to the touch. Its contents appear to be a faintly glowing roiling cloud of flame. When the globe is thrown or smashed it expands violently into a cloud, reaching around corners, from the point where it landed, and all creatures within 15 feet must make a DC 14 Dexterity throw. On a failure they take 3d6 Fire damage. On a success they take half as much.
potion
thrown
uncommon
2016-06-24
#12
Extract of Acid
potion, uncommon
A lime green sludge is contained within this oblong vial stoppered by a glass bauble. It froths and bubbles as if constantly in turmoil even when left alone. When it is poured out slowly onto a flat surface it will chew through up to a foot of solid rock or several inches of metal. When shattered all creatures within a 5 foot radius take 2d6 acid damage and must roll a Dexterity saving throw DC 14. On a failure they take an additional 2d6 acid damage on their next turn.
potion
thrown
uncommon
2016-06-24
#14
Satchel of Superior Sorting
wondrous, common
This simple leather messenger bag was made by an eccentric sorcerer who was irritated that his component pouch was constantly so disorganized. It has as many or as few pockets as the wearer needs, up to 20 pockets. Each time the pouch is opened the contents are neatly organized even if they were not when it was closed and it has a free pocket for anything you are holding that fits into the bag. It always weighs 5 pounds, empty or full, and can hold up to 20 pounds of goods as long as they fit into the mouth of the satchel.
wondrous
storage, container
common
2016-06-16
#18
Hearthstone
wondrous, common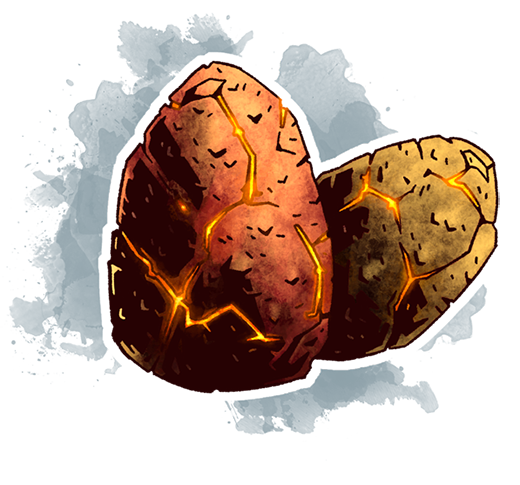 These oblong rocks have been compared to a dragon's egg because of their appearance. They are only the size of a fist but underneath the cracked rocky surface a red hot core is visible. They are usually found near hot springs, and are a commonplace heirloom passed down from generation to generation in the mountainous regions to protect against the bitter winters. It is inconveniently just a bit too warm to hold and you will take 1 fire damage every turn your skin is in contact with a hearthstone, although it will not start fires. A hearthstone is a boon to the injured and cold, as its aura of warmth has a comfort to it, and every hour you are within 5 feet of the Hearthstone you gain 1 hitpoint. In addition, while its in your backpack or other similarly close place you have advantage against exhaustion checks from cold weather.
wondrous
common
2019-02-26*
#20