Warhammer of Retribution
weapon(warhammer), very rare (requires attunement by a creature with at least 12 Charisma)
This warhammer is more stockily built than most and the sides of its blocky head are covered in silver inlays. As you attune to it you feel a weight come upon you as if you have taken on a great responsibility.
Once per short rest as an action you can slam the hammer to the ground and it begins eminating a crushing aura. For the next minute or until you pick up the hammer, whichever comes first, all creatures within 60 feet of the hammer must make a Strength saving throw at the beginning of each turn equal to 8 + your proficiency + your Charisma modifier. You can choose a number of creatures up to your Charisma modifier to automatically succeed this saving throw. On a failure every foot of movement costs 1 extra foot until the beginning of their next turn and if the creature is an Aberration, Fiend, or Undead they also fall Prone. If a creature that is already Prone fails this saving throw they become Restrained until they are no longer in the aura.
Curse. While attuned to this item you constantly feel a heavy burden on your mind and shoulders, and your movement speed is reduced by 5 feet. If you remove this curse you hear whispered in your mind "those who are not willing to bear the burden are not worthy to wield me", the attunement immediately breaks, and you can never attune to the hammer again.
2019-09-06*
#175
Type: Weapon, very rare (major)
Subtype(s): warhammer
School: Transmutation
Item Created: 2017-07-13
Last Updated: 2019-09-06
Item #: 175
Tags:
Vial of Temporal Twilight
wondrous, rare
This glass bottle has an inky black cloud that quickly fades to black within it and light sources flicker when placed directly next to it. When you open the vial the darkness within it erupts into a 30-foot-radius sphere of dim light that spreads around corners. This area of dim light is not considered daylight and non-magical light can't illuminate it. It lasts for 10 minutes, or until dispelled by a 3rd level spell or greater.
Creatures that start their turn in the radius must make a DC 10 Constitution saving throw or be Blinded until the beginning of their next turn. Undead and fiends automatically succeed on this saving throw.
Once used this vial can not be used again until the next day at dawn.
2021-03-27
#334
Otherworldly Heart
wondrous, legendary (requires attunement)
A dark-purple heart steadily beats inside this small hardwood chest. All creatures within 60 feet of the box can hear a quiet heartbeat, and feel the rhythmic thump deep within them.
Mortal's Fragility
As an action you can point at a creature you can see within 60 feet and force them to make a DC 12 Constitution saving throw as they feel a tremor in their heart. On a failure they take 3d6 Necrotic damage and their hit point maximum is reduced by an amount equal to the damage dealt. On a success they take half as much damage and their hit points are not reduced. This reduction lasts until the creature finishes a long rest. The target dies if this effect reduces its hit point maximum to 0.
A creature with no heart automatically succeeds this saving throw.
Immortal's Resistance
If you are killed while attuned with this heart you are brought back to life at the next dawn as if by the spell Resurrection, even if you are undead. Your body forms around this heart as if it is your own. After being resurrected in this way you can not die to an injury to, or failure of, your heart, though the rest of your mortality is unchanged.
  
Curse. Each time you use the feature Mortal's Fragility if you have a heart and are not undead you must also make the saving throw against taking necrotic damage, though your hit point maximum is not reduced.
Additionally, if you are resurrected by the Immortal's Resistance feature you are now considered undead and have the Sunlight Sensitivity feature: while in sunlight, you have disadvantage on attack rolls, as well as on Wisdom (Perception) checks that rely on sight.
2021-03-27
#335
Solarian Flare
wondrous, very rare
This simple red cylinder marked with a sun rune is named for the intense light it creates. You can light it as an action, and when lit it will fly into the sky before exploding in a flash, illuminating the landscape. For the next 10 minutes bright light is cast in a 100-foot-radius, 200-foot-high cylinder, and dim light for an additional 100 feet. This light is sunlight and dispels any darkness in its area that was created by a spell. Any oozes, undead, or fiends within this light have disadvantage on Constitution saving throws. Additionally, any fiend that starts their turn within the area of bright light takes 1d12 radiant damage.
2021-02-27*
#290
Golden Bow of Apollo
weapon(longbow), very rare (requires attunement)
This elegant longbow is made of a bright gold, and despite its overbearing size draws with ease that defies common sense making this bow's range twice that of a regular longbow. This bow contains 8 charges and regains all expended charges each day at dawn. While attuned you are granted divine health by the gods themselves and are immune to all disease and poisons as well as the poisoned condition.
Aim of Delphi
At the beginning of your turn you can choose to expend a charge to activate the bow until the end of your turn. While the bow is activated you may make attacks against any creature within range with advantage, even if they have full cover. When you do so, the arrows disappear in mid-flight, suddenly reappearing at their target.
Bringer of Healing and Plagues
When you make a successful attack with this weapon you may choose to expend a charge to cast Blight on the target you hit or to cast Mass Cure Wounds at the point the arrow strikes. Your spellcasting modifier for this effect is +5 or your own spellcasting modifier, whichever is higher.
Averter of Evil
When you make a successful attack with this weapon against an undead or fiend you instantly destroy it if its challenge rating is 2 or lower. If it is not destroyed it takes an additional 2d6 Radiant damage.
2019-06-24
#243
Archangel's Sword
weapon(longsword, greatsword), very rare (requires attunement)
This silvered sword has a broad blade that glints yellow in the sun. It's golden hand-and-a-half hilt has an exorbitantly large diamond as the pommel.
Undead's Bane
This sword deals Radiant damage instead of Slashing damage to any undead creature. Additionally, when you take the Dodge action until the beginning of your next turn you have resistance to Necrotic damage.
Heaven's Fury
While wielding this sword you can command a fraction of the might contained in the armories of the Upper Planes. Once per day as an action you can swing the sword down at point you can see. When you do so a crack like thunder can be heard as a hail of massive 20 foot swords crash into the ground in a 30 foot radius around the point you chose. These swords fly from the heavens, piercing through almost any object in their path before disappearing in a flash.
Any creature in the area must make a DC 14 Dexterity saving throw. If you are proficient in Religion you add your proficiency to this DC. On a failure the creature takes 3d12 Piercing damage and 3d12 Radiant damage. Celestial creatures automatically succeed this saving throw.
Angelic Properties
This sword can not rust or shatter, and you can summon this sword to you as a bonus action if you have a free hand unless it is blocked by an antimagic field or a ward against magical travel such as Forbiddance.
Curse. If you knowingly attack an innocent creature the sword will immediately streak with black, lose all magic ability, and its diamond will shatter. Additionally, you take 1 fire damage as a symbol is branded into your forehead.
If you unattune with this sword it will begin floating, before, with a clap like thunder, it soars into the sky and returns to the Upper Planes.
2021-04-09*
#197
Craek's Jumping Stick
wondrous, uncommon
This metal rod is about 4 feet long and straight most of the way down before telescoping to a small metal foot. It has two handles welded to the top that look like they were hacked off of a teapot, and two folding flaps attached just before the shaft begins tapering.
When you press down on the rod the tapering section resists but eventually collapses in on itself as if it has a complex spring mechanism underneath it. As a bonus action you can unfold the flaps and stand on them, one foot on each side of the rod, and as you do so you begin to bounce slightly.
Whenever you jump while riding the jumping stick you add 1d6 to your jump height or length. If this roll is lower than your dexterity modifier you can instead use your dexterity modifier. While riding the jumping stick if you enter rough terrain or fail a dexterity saving throw you automatically fall prone. However, enemies have disadvantage on attacks of opportunity against you.
2018-05-30*
#165
Ring of the Sudden Strike
ring, very rare (requires attunement)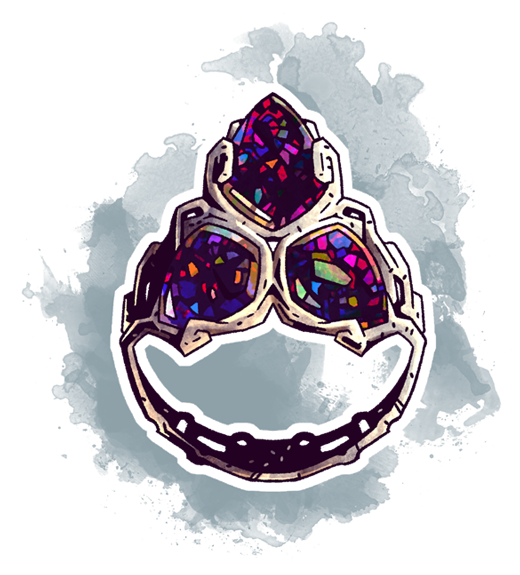 This ring is set with three black opals in an ornately shaped silver band.
Once per short rest at the end of a hostile creature's turn you can teleport to an unoccupied space up to 60 feet away in a puff of purple smoke. You can then make a melee attack with advantage against a creature within reach. Additionally, once per day at the end of a hostile creature's turn you can take the attack action as if it is your turn.
Curse. If you use either of this ring's features the first attack roll against you within the next minute has advantage. If this attack hits you you take an additional 2d8 Necrotic damage.
2017-01-05
#138
Corrupted Hammer of Life
weapon(warhammer), rare (requires attunement)
This warhammer has an unusually large head made of blue tinted steel, and weighs 5 pounds.
On a critical hit with this weapon you deal an additional 2d10 radiant damage. If you score a critical hit against an undead creature you gain half of the radiant damage in temporary hit points as the hammer dimly glows.
Curse. On a critical failure with this weapon all creatures within 5 feet of the hammer, including yourself, must make a DC 15 constitution saving throw or take 2d10 necrotic damage as the hammer hums loudly and crackles with dark energy.
Additionally, while attuned to this hammer you take half healing from spells of 2nd level or lower.
2016-11-17
#97
Spiderwood Seed
wondrous, very rare (requires attunement)
To attune to this black grape-size seed you must swallow it. Over the course of 1 week a series of wooden growths protrude from your back along your spine. Several of these grow into four limber wooden appendages. As an Attack action you can make a melee attack with one of these limbs as if you are proficient, using either your Strength or Dexterity modifier. On a hit it deals 2d6, plus either your Strength or Dexterity modifier, Piercing damage. This damage counts as magical for the purpose of overcoming resistance and immunity to nonmagical attacks and damage. If you are able to make multiple attacks with the Attack action, this attack replaces one of them.
These limbs automatically regrow 1 minute after being seriously damaged or removed, and are each able to hold objects weighing up to 30 pounds. Additionally, you have a climbing speed equal to half your walking speed, and are able to move your full speed while prone, so long as these limbs are free.
Curse. Once swallowed the seed begins to grow, causing great pain in your upper back. For the next week you suffer 1 level of exhaustion which can not be removed even with Greater Restoration. This seed feeds on your life force in exchange for submitting to your control. Up to 4 hit dice are automatically consumed each day at dawn. Additionally, a hit dice is consumed for each limb that regrows or repairs major damage to itself. If there are no remaining hit dice when a limb repairs itself you take 1d8 necrotic damage. This damage can not be resisted or reduced. If the curse is removed from this item the appendages slowly shrivel, die, and fall off. The attunement is broken, but the wooden knobs on your back remain.
2021-09-07*
#71
Watch of Timelessness
wondrous, common
This monotone pocket watch is mesmerizing to a fault. It's somehow cheering though, and as a bonus action you can pull it out to check the time, gaining an extra spring in your step and a +10 bonus to your movement speed for the next minute.
Any creature who checks the time on this watch is momentarily disoriented. They are unable to read a map or discern cardinal directions for the next minute, making it very easy for them to become lost.
2021-04-10*
#9
Scroll of Magic Armor
scroll, common
When you unroll this parchment scroll it grows in size and thickness until it is an inch width thick and long enough to encircle you, floating in place for a moment as purple glyphs are pulled towards it. When it becomes saturated with glyphs it flies towards you and attempts to attach itself. You can attempt to resist it with a Strength check (DC 14), or dodge it with a Dexterity(Acrobatics) check (DC 18).
On a failure, or if you are willing, it cinches around your abdomen and the glyphs begin circling your body. While wearing the scroll you have advantage on saves against spells targeting only you. The scroll crumbles to dust after 1 hour or the next time you take Lightning damage.
While wearing the scroll you have a 10 foot penalty to your movement and can not take it off until it is destroyed or Remove Curse is cast on it.
2021-04-10*
#8