Solarian Flare
wondrous, very rare
This simple red cylinder marked with a sun rune is named for the intense light it creates. You can light it as an action, and when lit it will fly into the sky before exploding in a flash, illuminating the landscape. For the next 10 minutes bright light is cast in a 100-foot-radius, 200-foot-high cylinder, and dim light for an additional 100 feet. This light is sunlight and dispels any darkness in its area that was created by a spell. Any oozes, undead, or fiends within this light have disadvantage on Constitution saving throws. Additionally, any fiend that starts their turn within the area of bright light takes 1d12 radiant damage.
2021-02-27*
#290
Type: Wondrous, very rare (major)
Subtype(s): consumable
School: Evocation
Item Created: 2020-01-18
Last Updated: 2021-02-27
Item #: 290
Tags:
Vial of Temporal Twilight
wondrous, rare
This glass bottle has an inky black cloud that quickly fades to black within it and light sources flicker when placed directly next to it. When you open the vial the darkness within it erupts into a 30-foot-radius sphere of dim light that spreads around corners. This area of dim light is not considered daylight and non-magical light can't illuminate it. It lasts for 10 minutes, or until dispelled by a 3rd level spell or greater.
Creatures that start their turn in the radius must make a DC 10 Constitution saving throw or be Blinded until the beginning of their next turn. Undead and fiends automatically succeed on this saving throw.
Once used this vial can not be used again until the next day at dawn.
2021-03-27
#334
Sporelight
wondrous, uncommon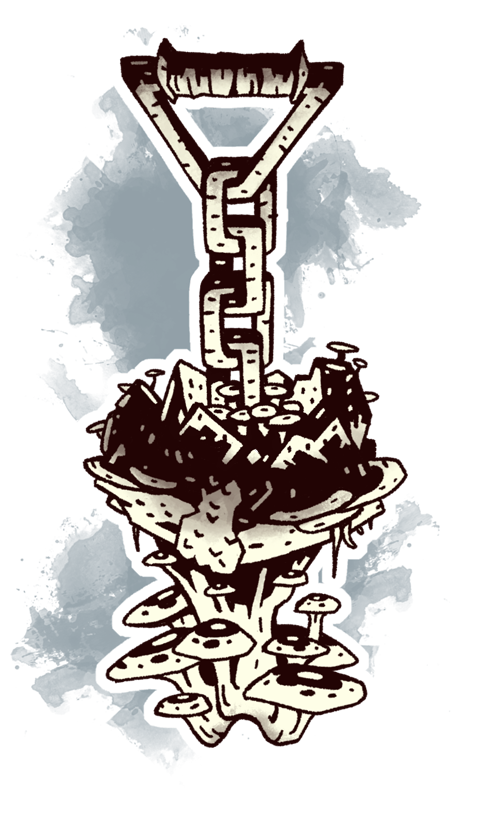 This rock has a large cluster of bio-luminescent mushrooms and moss growing on it that act like a natural lantern. There is a chain with a handle bolted into the rock so you can easily carry it. This magical item has three charges and regains all expended charges each day at dawn so long as it is currently in darkness.
After 1 minute of being in darkness the mushrooms begin to glow, casting a bright light in a 30-foot radius and a dim light for an additional 30 feet.
Rapport spores
As a bonus action you can pluck one of the mushrooms from the lantern, expending a charge. A 10-foot radius of spores extends from the lantern. These spores can go around corners and only affect creatures that have an Intelligence of 5 or higher. Affected creatures can communicate telepathically with one another while they are within 30 feet of each other for the next hour. When you pluck a mushroom from this lantern all myconids within 500 feet sense it and know it's location.
2021-02-26*
#281
Golden Bow of Apollo
weapon(longbow), very rare (requires attunement)
This elegant longbow is made of a bright gold, and despite its overbearing size draws with ease that defies common sense making this bow's range twice that of a regular longbow. This bow contains 8 charges and regains all expended charges each day at dawn. While attuned you are granted divine health by the gods themselves and are immune to all disease and poisons as well as the poisoned condition.
Aim of Delphi
At the beginning of your turn you can choose to expend a charge to activate the bow until the end of your turn. While the bow is activated you may make attacks against any creature within range with advantage, even if they have full cover. When you do so, the arrows disappear in mid-flight, suddenly reappearing at their target.
Bringer of Healing and Plagues
When you make a successful attack with this weapon you may choose to expend a charge to cast Blight on the target you hit or to cast Mass Cure Wounds at the point the arrow strikes. Your spellcasting modifier for this effect is +5 or your own spellcasting modifier, whichever is higher.
Averter of Evil
When you make a successful attack with this weapon against an undead or fiend you instantly destroy it if its challenge rating is 2 or lower. If it is not destroyed it takes an additional 2d6 Radiant damage.
2019-06-24
#243
Reynier's Amulet of Radiance
wondrous, uncommon
This smooth sphere of silver is embedded with a large number of amber stones and has a pinpoint hole at the very bottom. This amulet holds 4 charges and regains 1d4 expended charges each dawn.
As an action you can hold this amulet above your head and shine a light into the hole, activating the amulet and expending a charge. For the next minute the amber stones emit piercing threads of light and while you hold this amulet above your head any undead that end their turn within 15 feet of you take 1d8 radiant damage.
2017-09-29
#183
Warhammer of Retribution
weapon(warhammer), very rare (requires attunement by a creature with at least 12 Charisma)
This warhammer is more stockily built than most and the sides of its blocky head are covered in silver inlays. As you attune to it you feel a weight come upon you as if you have taken on a great responsibility.
Once per short rest as an action you can slam the hammer to the ground and it begins eminating a crushing aura. For the next minute or until you pick up the hammer, whichever comes first, all creatures within 60 feet of the hammer must make a Strength saving throw at the beginning of each turn equal to 8 + your proficiency + your Charisma modifier. You can choose a number of creatures up to your Charisma modifier to automatically succeed this saving throw. On a failure every foot of movement costs 1 extra foot until the beginning of their next turn and if the creature is an Aberration, Fiend, or Undead they also fall Prone. If a creature that is already Prone fails this saving throw they become Restrained until they are no longer in the aura.
Curse. While attuned to this item you constantly feel a heavy burden on your mind and shoulders, and your movement speed is reduced by 5 feet. If you remove this curse you hear whispered in your mind "those who are not willing to bear the burden are not worthy to wield me", the attunement immediately breaks, and you can never attune to the hammer again.
2019-09-06*
#175
Reynier's Cold light
wondrous, uncommon
This bullseye lantern's glass pane is frosted over but it still emits a strong blue light in a 60-foot cone and dim light for an additional 60 feet. This light can't be turned off nor does it require fuel but instead of the lantern emitting heat it instead has a chilled aura as if a cool autumn breeze is constantly blowing about it.
Any Ooze or Shapeshifter that begins or ends its turn within the bright light of this lantern takes 1 cold damage.
2017-02-15
#155