Reynier's Amulet of Radiance
wondrous, uncommon
This smooth sphere of silver is embedded with a large number of amber stones and has a pinpoint hole at the very bottom. This amulet holds 4 charges and regains 1d4 expended charges each dawn.
As an action you can hold this amulet above your head and shine a light into the hole, activating the amulet and expending a charge. For the next minute the amber stones emit piercing threads of light and while you hold this amulet above your head any undead that end their turn within 15 feet of you take 1d8 radiant damage.
wondrous
necklace
uncommon
2017-09-29
#183
Reynier's Crystal Hand
staff, rare (requires attunement)
This ebony staff is topped with a lifelike hand carved from shimmering translucent crystal.
It has 10 charges and regains 1d10 expended charges each day at dawn. While attuned to this item you are able to cast Mage Hand if you were not able to before and your mage hand looks identical to the staff's crystalline hand. Additionally, you can use this staff as a spellcasting focus.
Shimmering Shield
As a reaction to you or a creature you can see being targeted by a ranged weapon or ranged spell attack, you can expend a charge to create a 10-foot wide 15-foot tall crystal hand between the targeted creature and the attack. Each time a hand is created, it appears in a brilliant flash of dazzling lights and each creature within 15 feet of it must make a DC 14 Constitution saving throw or be Blinded until the beginning of it's next turn.
This crystal hand has 12 AC and 30 hit points and is vulnerable to Force damage. It lasts until it is destroyed or until you use this feature again.
staff
rare
Yes
2021-09-30
#342
Solarian Flare
wondrous, very rare
This simple red cylinder marked with a sun rune is named for the intense light it creates. You can light it as an action, and when lit it will fly into the sky before exploding in a flash, illuminating the landscape. For the next 10 minutes bright light is cast in a 100-foot-radius, 200-foot-high cylinder, and dim light for an additional 100 feet. This light is sunlight and dispels any darkness in its area that was created by a spell. Any oozes, undead, or fiends within this light have disadvantage on Constitution saving throws. Additionally, any fiend that starts their turn within the area of bright light takes 1d12 radiant damage.
wondrous
consumable
very rare
2021-02-27*
#290
Reynier's Miniature Raincloud
scroll, uncommon
This scroll is sealed with white wax that shimmers in the light and has the crest of a lightning bolt. When the seal is broken a tiny cloud the size of a fist appears 5 feet directly above the scroll. This cloud grows until it is 5 feet wide before beginning to rain. It rains 1d4 gallons of water over the course of 1 minute. This water is perfectly clear and could even be described as glittering. After 1 minute a single lightning bolt strikes the ground from the tiny cloud before it dissipates, and any creature within 5 feet of that point must make a DC 12 Dexterity saving throw or take 1d10 Lightning damage.
scroll
uncommon
2018-05-30
#210
Reynier's Overwhelming Beam
rod, rare
This short, dull metallic rod has a note tied around it with string. The note claims that it was crafted to contain the holy light of "the ancient god of some clerics I am pals with. They live on a mountain so you know it's legit" and is signed with Reynier's signature. It is partially hollow on one end and has a button on the other.
This rod contains 5 charges and regains 1d4+1 charges each dawn. When you press the button a 6 inch beam of light flashes from the hollow of the rod out to 30 feet before quickly flickering out. The first creature hit by this beam regains 2d8 hit points as they are bathed in the warm light. If there are hit points left over after the creature has reached maximum hit points or the creature is already at maximum hit points they must make a Constitution saving throw equal to 8 + the remaining hit points. On a failure they are Stunned for 1 turn and are Blinded for the next minute as their eyes and mind are overwhelmed with a burning sensation and pure light. At the end of each of its turns, it can make another Constitution saving throw. If it succeeds, the effect ends.
rod
rare
2017-08-25
#190
Reynier's Bag of Sunshine
wondrous, common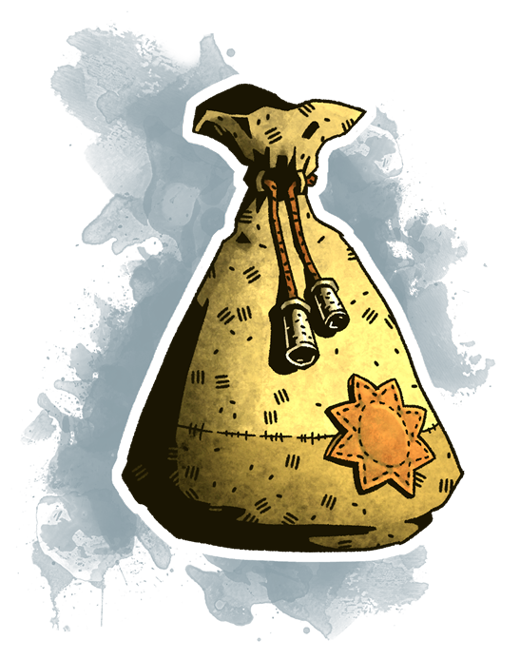 This small black velvet bag is tightly tied off with a suede strap. It is equivalent to a pouch and can hold the same amount of weight and volume. The first time this bag is opened each day a ray of light streams from the opening in a 15 foot cone. All creatures in this cone must make a DC 12 Constitution saving throw or be blinded until the end of their next turn. This beam of light counts as a third level light spell for dispelling darkness.
While the bag is open it emits dim light out to 15 feet.
wondrous
common
2016-12-18
#122