True Hero's Might
armor(breastplate, half plate), very rare (requires attunement)
This polished armor is heavily adorned with bronze and gold and has a band of red hanging from it's left pauldron. It is said to have belonged to a legendary warrior who led his men to battle with reckless abandon.
While wearing this armor you are immune to being frightened and while charmed if you would injure a creature you consider to be an ally the effect on you immediately ends.
Additionally, as an action, you can rally your allies to you. For the next minute you emanate an aura of confidence and can not be stunned or knocked prone. For this duration friendly creatures within 30 feet of you are immune to being frightened or charmed, and hostile creatures within 30 feet have disadvantage to Wisdom saving throws.
Once you use this ability you can not use it again until your next long rest.
armor
breastplate, half plate
very rare
Yes
2019-10-14
#261
Winter's Edge
weapon(handaxe, battleaxe, greataxe), rare (requires attunement)
This axe is forged from a stark blue alloy and has an intricate mountain range etched on its surface. After dusk it gathers a layer of frost along it's edge, even on hot nights.    This axe has 8 charges and regains 1d6 + 2 expended charges after a long rest.
When you make a successful attack with this weapon you can expend a charge to deal an additional 1d10 cold damage and force the target to make a DC 14 Strength saving throw or be knocked prone as a howling bitter wind follows your blow.
weapon
handaxe, battleaxe, greataxe
rare
Yes
2019-10-10
#257
Sacred Acorn
wondrous, very rare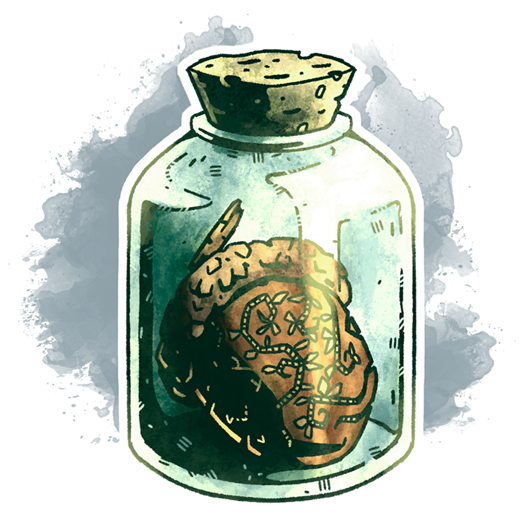 This large acorn is covered in delicate carvings of leaves and vines and has been carefully preserved in a glass vial. The first time the acorn touches dirt it explodes with life, covering everything around it in verdant flora. Over the next minute the acorn erupts into a massive tree, 120 feet tall, and with a trunk easily 10 feet in diameter. During the following hour a grove of trees springs from the ground in a 100 foot radius around the towering tree and all manner of flora along with them. Small dancing lights illuminate the bows of these trees both night and day, providing dim light to those under the trees. Undead and fiends are unable to enter the grove and can not possess, charm, or frighten creatures within it. Any creature possessed, charmed, or frightened by such a creature is no longer affected upon entering.
wondrous
consumable
very rare
2021-02-21*
#280
Ring of Enchanting Beauty
ring, very rare (requires attunement)
This delicate ring has a rose carved from a shining ruby as it's focus. While wearing this ring once per long rest you can activate it as a bonus action. For the next 10 minutes any humanoid that ends its turn within 30 feet of you must make a DC 18 Wisdom saving throw, and does so with advantage if you or your companions are fighting it. If it fails the saving throw it is charmed by you until dusk or dawn, whichever is sooner, or until you or your companions do anything harmful to it. The charmed creature regards you as captivatingly beautiful and charismatic, regardless of your appearance.
ring
very rare
Yes
2019-10-06
#253
Mask of The Pack
wondrous, very rare (requires attunement)
This wooden mask is of a majestic black and white canine. As you put it on you can feel the beastial energy emanating from it. This magical item has 4 charges and regains 1d4 expended charges after a long rest.  
As a bonus action you can use your beastial energy to intimidate a beast within 30 feet of you. The target beast must succeed on a DC 15 Wisdom saving throw or become frightened of you for the next minute. The beast can repeat the saving throw at the end of each of its turns, ending the effect on itself on a success.  
Additionally, as an action you can expend a number of charges as you release a primal howl. When you do so a number of dire wolves equal to the charges spent are summoned to unoccupied spaces around you. These dire wolves are friendly to you and your companions. Roll initiative for them as a group, which has its own turns. They obey any verbal commands that you issue them to the best of their abilities. If you don't issue any commands to them, they defend themselves, but otherwise take no actions. Each dire wolf disappears in a puff of mist when it drops to 0 hit points or after an hour has passed.
wondrous
mask
very rare
Yes
2019-10-05
#252
Staff of the Undying Gaze
staff, very rare (requires attunement by a spellcaster)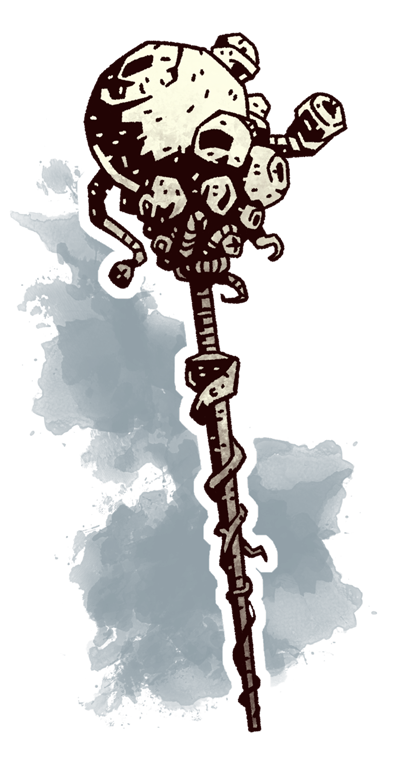 This staff has a cluster of eyeballs attached to it which have been preserved using Flesh to Stone. While attuned to it all undead within 120 feet of you are outlined in a purple glow for your eyes only. You can see them even through walls or while blinded as long as they are within range. Even if an undead is in the Ethereal Plane you can affect it from the Material Plane if it is outlined in this way. Additionally, you know the types of all undead in range even if you have not seen them before.
Unrelenting Gaze
As an action you can activate this staff, causing the eyes to open. When you do so choose an outlined undead within 120 feet of you, or a creature you can see within 60 feet of you. The target creature must make a DC 16 Wisdom saving throw. On a failed saving throw it takes 3d8 psychic damage and is Frightened of you until the end of its next turn. If the creature is an undead it is Stunned until the end of its next turn instead of Frightened. On a successful saving throw the creature is not affected.
staff
very rare
Yes
2021-03-13*
#333
Soothing Chimes
wondrous, uncommon
These translucent crystal chimes have a joyful tinkle as they sway in the wind.
Any creature that can hear these chimes while taking a long rest reduces their exhaustion level by 2 instead of 1.
Additionally, any creature within 30 feet that can hear these chimes has advantage on saving throws against being Frightened. After a creature gains advantage in this way they are no longer effected by the chimes until after their next long rest.
wondrous
uncommon
2021-04-09*
#195
Banner of Courage
wondrous, very rare
This large blue banner is decorated with a flaring yellow crest and mounted on the end of a 10 foot brass pole. As you hold it you can feel the same sense of self confidence that soldiers must when they know their standard is marching right behind them.
The banner has no effect unless it is held aloft by a creature. While holding this banner you can not make any attacks or cast any spells requiring somatic components. While held aloft the banner has an aura that affects all creatures within 250 feet that have either touched it in the last 24 hours, or are wearing a matching crest.
This magical item has 20 charges and regains 2d10 expended charges each day at dawn.
Symbol of Strength
Creatures affected by the banner are immune to being Frightened and any charm effect that would make them endanger another creature affected by the banner has no effect.
Bastion of Fortitude
Whenever a creature affected by this banner must make a saving throw that creature gains a bonus to the saving throw equal to half your charisma modifier rounded up (minimum of 1).
Surge of Hope
As an action you can wave the banner and expend any number of remaining charges to bolster that many creatures affected by the banner. Each bolstered creature gains temporary hit points equal to 3d6 + your Charisma modifier that last until the banner is no longer aloft. Additionally, they are immune to the effects Blinded, Deafened, and Poisoned, while the temporary hit points remain.
wondrous
very rare
2021-03-24*
#185