Sacred Acorn
wondrous, very rare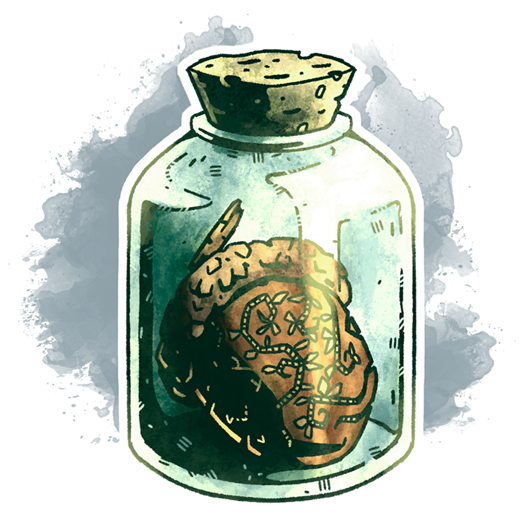 This large acorn is covered in delicate carvings of leaves and vines and has been carefully preserved in a glass vial. The first time the acorn touches dirt it explodes with life, covering everything around it in verdant flora. Over the next minute the acorn erupts into a massive tree, 120 feet tall, and with a trunk easily 10 feet in diameter. During the following hour a grove of trees springs from the ground in a 100 foot radius around the towering tree and all manner of flora along with them. Small dancing lights illuminate the bows of these trees both night and day, providing dim light to those under the trees. Undead and fiends are unable to enter the grove and can not possess, charm, or frighten creatures within it. Any creature possessed, charmed, or frightened by such a creature is no longer affected upon entering.
2021-02-21*
#280
Type: Wondrous, very rare (major)
Subtype(s): consumable
School: Conjuration
Item Created: 2019-10-06
Last Updated: 2021-02-21
Item #: 280
Tags:
Ring of Fallen Leaves
ring, artifact (requires attunement by a creature that knows planar magic)
This ring is a complicated tangle of copper and bronze oak leaves. It magically resizes to fit any finger you put it on.
This item holds 10 charges and regains 1 expended charge each day at dawn.
While attuned to this ring you can identify the type of any tree you can see, and have proficiency in Intelligence(Nature) checks.
Plane of Perpetual Autumn
While attuned with this ring you are aware of, and in control of, the Demiplane of Perpetual Autumn. This demiplane is a lush deciduous forest with a giant oak many times larger than normal at the center. The trees in this forest are always beautiful warm tones with the occasional purple. You can walk for several miles in any direction before finding the edge of the demiplane. If you concentrate, you know of all creatures within the demiplane and where they are.
Ever-present Portal
As an action you can expend 2 charges to create a portal to the Demiplane of Perpetual Autumn, or a portal from the demiplane to the Prime Material plane, that lasts for 1 hour or until you create another portal. This costs 1 less charge if you create the portal adjacent to a Huge or larger oak tree.
The portal you create is 5 feet wide, 10 feet tall, and is bordered by branches. You can expend an additional 2 charges to double the size of the portal. When you create a portal to the Material Plane you can choose any location you are very familiar with, or a permanent teleport circle. When you create a portal to the demiplane you can choose any location within it.
If you create a portal in the same location for 8 consecutive days that portal becomes a permanent portal. A permanent portal can only be dispelled by Dispel Magic cast at 9th level, Wish, or if this ring has at least 1 charge and you expend all remaining charges to destroy it.
2021-10-31
#357
Stalwart Granite Helm
wondrous, legendary (requires attunement)
This regal helmet is made of jet black granite, and trimmed with gold. Despite it's dense materials it is not overly heavy. If you have horns the helmet gladly morphs to fit.
While attuned to this helmet you gain the following features.
Mountain's Soul
You gain proficiency in Constitution saving throws and Athletics checks. You also gain fluent knowledge of the Giant and Terran languages.
Giant's Strength
While wearing this helmet your strength score changes to 23 unless your strength is already greater than 23, and it can not be reduced below 23 while you are wearing the helmet. Additionally, if a rock or similar object is thrown at you you can, with a successful DC 10 Dexterity saving throw, catch it and take no bludgeoning damage from it.
Impassable Wall
As an action you can envelope creatures near you with an immense crushing presence. Each creature of your choice within 60 feet must succeed on a DC 18 Wisdom saving throw or become Frightened of you for 1 minute. A creature frightened in this way sees you appear to grow up to 18 feet tall, or as large as the space around you allows, and takes an additional 2d6 psychic damage each time you hit them with a melee weapon or unarmed attack. A creature can repeat the saving throw at the end of each of its turns, ending the effect on itself on a success. After you use this feature you can not use it again until the end of a long or short rest.
2020-09-21
#316
Zerrndrock
wondrous, very rare (requires attunement)
This flashy amulet has an impressively large green emerald as it's centerpiece and is ornamented with onyx and blackened steel. When you slip it over your head you can hear it speak to you, and know that it holds a fragment of a dragon's consciousness within it.
Ancient Presence
When you are attuned to this amulet as you wear it it begins to change even your physical body the presence within it is so powerful. Over the course of a month jet black scales grow down your spine and your eyes become emerald green. You gain immunity to acid damage, resistance to poison damage, and darkvision out to 120 feet. If you unattune from this amulet you lose these benefits, but your scales and eye color do not change back.
Caustic Soul
As an action if you are within the area of poisonous or harmful gases you can breathe in the toxins surrounding you and exhale a roiling stream of acid and poison 60 feet long and 10 feet wide. Each creature in the line must make a DC 18 Constitution saving throw, taking 4d8 Acid damage and 4d8 Poison damage on a failed throw or half as much on a successful one. If breathing the gas in this way would cause you to make a saving throw you make that save with advantage and take no damage on a success.
Master of Fear
You can not be frightened by any creature with a CR less than or equal to 12. Additionally, any Adult or younger dragon that tries to use their Frightful Presence feature on you must instead make a saving throw against their own effect.
Sentience. Zerrndrock is a sentient neutral evil amulet with an Intelligence of 20, Wisdom of 18, and a Charisma of 24. It has proficiency in Insight, Deception, and Charisma saving throws, with a proficiency bonus of +6, and it has hearing and blindsight out to a range of 120 feet. The amulet can speak, and understand Common and Draconic, but can only communicate telepathically with its wearer. Its voice is low and rumbling but soothing in a way.
Personality. Zerrndrock speaks quietly but with authority that only comes with age and immense confidence. His only goal is resurrection and to be freed from the amulet. He is not friendly, and never will be, but will play the part of a wise grandfather giving sage advice and encouragement, or almost anything else including lying or getting the wearer killed if he thinks it will sway the wearer closer to his selfish goal. Doing what he must to gain trust is just a part of this scheme, even if he does not enjoy it. Zerrndrock is clever and has endless patience, and will never lash out or grow impatient unless he believes he is within reach of his centuries-long goal.
2021-08-27*
#308
Staff of The Reaching Canopy
staff, legendary (requires attunement by a Druid or Cleric)
This ancient staff carved from stout oak is without any ornamentation beyond its natural gnarls and twists, and a small inscription. If you are able to read Elven you can gather that it was created for a crusade to heal the forests and restore balance that was lost. This staff has 8 charges and regains 1d8 expended charges each day at dawn.
Reach of Infinite Branches
When you cast Thorn Whip or Grasping Vine you can cast them from a Large or larger plant you can see, that is not hostile, as if you were there.
Tangled Canopy
You know the cantrip Thorn Whip if you did not previously, and additionally can expend a charge to cast Grasping Vine, ignoring concentration.
Roots of The Great Oak
If you expend a charge and spend 1 minute concentrating you can cast Transport Via Plants without expending a spell slot, so long as the destination plant is an oak tree.
Branches' Blessing
As an action you can expend a charge while touching a Large tree or plant in a swamp or dead forest to stimulate it to grow so long as it is still standing. Within one hour you can notice it's bark being restored, and buds beginning to form. You regain any charges you expended to heal a plant in this way after your next long or short rest.
2021-08-18*
#306
True Hero's Might
armor(breastplate, half plate), very rare (requires attunement)
This polished armor is heavily adorned with bronze and gold and has a band of red hanging from it's left pauldron. It is said to have belonged to a legendary warrior who led his men to battle with reckless abandon.
While wearing this armor you are immune to being frightened and while charmed if you would injure a creature you consider to be an ally the effect on you immediately ends.
Additionally, as an action, you can rally your allies to you. For the next minute you emanate an aura of confidence and can not be stunned or knocked prone. For this duration friendly creatures within 30 feet of you are immune to being frightened or charmed, and hostile creatures within 30 feet have disadvantage to Wisdom saving throws.
Once you use this ability you can not use it again until your next long rest.
2019-10-14
#261
Grove Guardian
wondrous, rare (requires attunement)
On this scarred white seed the size of a man's fist you see ancient runes. When you attune with this seed you learn the meaning of these runes and how to awaken it. If you plant this seed in the earth and call it's name; Over the next minute the two jagged birch saplings rapidly form and a stag rises from the ground. 
The stag has hide as tough as bark, with a mane of leaves, and the twin saplings as its antlers. This majestic beast has the statistics of a warhorse but an AC of 16, ignores difficult terrain made of earth, and can not be slowed or damaged by non-magical plants. Additionally, if you are attuned to this stag, while riding it you are granted its protection, and your AC can't be less than 16 regardless of what armor you are wearing.
It is friendly to you and follows your commands as best as it is able. If you give it no commands it defends itself but otherwise takes no other actions. If this steed dies it returns to its seed form and can not be summoned again for 3d10 days.
2021-02-21*
#279
Ancient Elven Flute
wondrous, legendary
This flute has been crafted from one of the most gnarled pieces of wood you have ever seen, but its sound is clear and pure. Inside this flute you find several rolled up sheets of parchment with a song written on it. If you are within 30 feet of a Huge or larger plant with no intelligence you can play this ancient song to shape the plants around you.
The song takes 10 minutes and as you play it the plant life, in particular the Huge or larger plant, slowly grows, creeps, and bends to form a small shelter. This shelter is connected to or even within the plant, and is created in a form of your choosing. This shelter can be up to 10 feet tall, has an area of up to 100 square feet, and when you create it you can choose some basic things to be created within the area such as beds, chairs, platforms, shelves, and doors. Once you play this song you can not shape plants with it again until 2d4 days have passed and the changes you make with it remain permanently unless you use this item to return them to how they were. If there is already a shelter created in this way within range you can instead choose to expand it by the same 100 square feet. This can be done up to 5 times per Huge tree, and 5 additional times for every size above Huge.
2021-02-21*
#278
Eldath's Boon
wondrous, very rare (requires attunement)
This necklace has beads made of various different woods, and each type of wood is carved into a miniature replica of that tree's leaf, all strung on a woven cord. Once per turn you can use 10 feet of movement to magically step into one living tree within reach and emerge from a second living tree within 60 feet, appearing in an unoccupied space within 5 feet of the second tree. Both trees must be Large or larger.
Dryad's Pact
Over the course of an 8-hour ritual you can create a bond with a Huge or larger tree and the dryad living within. As long as this tree is alive once per day you can cast one of the following spells without a spell slot and ignoring material components: Commune, which puts you in contact with the dryad also bonded with your tree; Find The Path, if the destination is your bonded tree; or Commune with Nature. If you create a bond with a new tree you may incur the anger of the previously bonded dryad because of your unfaithfulness. If your bonded tree is killed you immediately suffer 5d10 Psychic damage that can not be resisted or decreased in any way.
2021-02-21*
#277
Shield of Mighty Timbers
armor(shield), legendary (requires attunement)
This wooden shield is unpainted, instead covered in living vines, and has yet-living branches growing off it's edges. While attuned with this shield you gain proficiency in Intelligence (Nature) checks if you were not proficient before and your proficiency bonus is doubled if you were already proficient. Additionally, you are able to understand plant creatures, and if you speak Druidic they can also understand you.
Canopy of Protection
While within 30 feet of a Huge or larger plant that is not hostile, you and any other creatures of your choice, have half cover while within range of the plant as the roots and branches reach out to your aid.
Shephard of the Forest
You can call to the plants around you as if you know each of them by name. If you spend 1 minute touching this shield against a Huge or smaller plant with an intelligence of 3 or less, it awakens. The target plant gains an intelligence of 10, and the ability to speak one language you know. It also gains the ability to move its limbs, roots, vines, creepers, and so forth, and it gains senses similar to a human's. Your DM chooses Statistics appropriate for the awakened plant, such as the Statistics for the Awakened Shrub or the Awakened Tree. The awakened plant is initially friendly towards you but is not charmed or compelled to do as you ask. Once you have used this ability you can not use it again for the next 2d6 days.
2021-02-21*
#276
Rootshape Gauntlets
wondrous, uncommon (requires attunement)
This gauntlet is covered in hickory slabs where there would otherwise be plates of metal. Each of these slabs has runes carved into its roughly-hewn face that have been filled with dirt over time. This item has 3 charges and regains 1 expended charge each morning at dawn. If you are within arm's reach of a tree as an action you can expend a charge and press your hand against the tree to draw a weapon or pieces ammunition from it. This can be any weapon you are proficient with or 1d4 pieces of ammunition for any weapon you are proficient with. The look and feel of each weapon changes with the type of tree it is drawn from, but these differences do not affect its function in any meaningful way. On a critical failure with any weapon created this way, or after 1 day without being bathed in water, the weapon splinters beyond repair. If you spend an action to return an un-splintered weapon created in this way to a tree within arms reach the gauntlet regains an expended charge.
2021-02-21*
#275
Razorleaf Emerald
wondrous, rare (requires attunement)
The centerpiece of this amulet is a pearlescent green emerald. An etching of a leaf can faintly be seen in the sheen of its surface and the gem is framed by delicate silver branches. This item has 4 charges and regains 1d4 charges each day at dawn. While attuned to this amulet you know the cantrip Gust if you did not previously. As a bonus action you can focus on a number of leaves up to your casting ability modifier (minimum 1) that you can touch. When you do so the leaves become hard as iron and can be treated as darts for the next minute. Additionally, as an action you can expend a charge to cast Gust of Wind. If you are in a forested area or an area with many trees the leaves around you begin to pick up speed as they fly through the wind like knives and any creature that makes a save against this effect takes 3d8 slashing damage on a failed save or half as much on a successful one. If you are not a caster your casting ability for this item is Wisdom.
2021-02-21*
#274
Banner of Courage
wondrous, very rare
This large blue banner is decorated with a flaring yellow crest and mounted on the end of a 10 foot brass pole. As you hold it you can feel the same sense of self confidence that soldiers must when they know their standard is marching right behind them.
The banner has no effect unless it is held aloft by a creature. While holding this banner you can not make any attacks or cast any spells requiring somatic components. While held aloft the banner has an aura that affects all creatures within 250 feet that have either touched it in the last 24 hours, or are wearing a matching crest.
This magical item has 20 charges and regains 2d10 expended charges each day at dawn.
Symbol of Strength
Creatures affected by the banner are immune to being Frightened and any charm effect that would make them endanger another creature affected by the banner has no effect.
Bastion of Fortitude
Whenever a creature affected by this banner must make a saving throw that creature gains a bonus to the saving throw equal to half your charisma modifier rounded up (minimum of 1).
Surge of Hope
As an action you can wave the banner and expend any number of remaining charges to bolster that many creatures affected by the banner. Each bolstered creature gains temporary hit points equal to 3d6 + your Charisma modifier that last until the banner is no longer aloft. Additionally, they are immune to the effects Blinded, Deafened, and Poisoned, while the temporary hit points remain.
2021-03-24*
#185