Book of Thoth
wondrous, legendary (requires attunement)
This leatherbound book of ancient parchment is sealed shut and you are unable to figure out how to open it, but just by holding it you can feel that there is untold knowledge within it. While attuned to this book you are able to speak with plants and animals as if affected by the spells Speak with Animals and Speak with Plants. Additionally, you have proficiency with all Wisdom checks and saving throws. As an action once per day you can cast either True Seeing (with a duration of 10 minutes), or Contact Other Plane, ignoring components.
Curse. If you do not cast either True Seeing or Contact Other Plane for at least one day while attuned to this book you begin to see and hear things. When you make a critical fail on an ability check, or at any time your DM chooses, you suffer one of the following effects: You see something that does not exist until the end of your next turn, something near you appears to change forms until the end of your next turn, or you hear the voice of another creature near you.
You become so used to seeing things that you shouldn't, speaking with that that doesn't speak, and encountering other planar beings simply by being near this book that you automatically fail the first saving throw for any illusory effect or spell from the school of Illusion because you assume that it is one of the many apparitions you often encounter.
2019-06-20
#241
Type: Wondrous, legendary (major)
Subtype(s): book
School: Divination
Cost:
500,000 gp
380,000 sp
Item Created: 2019-06-20
Item #: 241
Tags:
Black Ice Circlet
wondrous, very rare (requires attunement)
This rough circlet chiseled from black ice has a single onyx set in its face and glistens a cold blue in the light. While you are attuned to this circlet you automatically succeed on saving throws against effects that would deal necrotic damage and are resistant to psychic damage. Additionally, you know the cantrip Chill Touch if you did not before, which you can cast as a bonus action. If you are not a spellcaster you use your Charisma as your spellcasting ability for this item.
Curse. If you die while attuned with this circlet you rise 24 hours later as a corrupted version of your former self unless you are restored to life or your body is destroyed. This curse can only be removed while surrounded by Black Ice or by Wish.
2021-03-02*
#303
Plate Armor of the Spider
armor(plate, half plate), very rare (requires attunement)
This set of deep black and purple plate armor has some spiderwebs in it but otherwise is in pristine condition. This item has 3 charges and all expended charges recharge at dawn.
Arachnid Manipulation
While you are attuned to this armor you are able to convey basic commands and feelings to spiders and spider-like creatures allowing you to cast Command (DC 17) as a bonus action against any such creatures without expending a spell slot. If affected they will try to act in a way that is beneficial to you.
Spider Summoner
As an action you can expend a charge to simultaneously cast Web and Conjure Animals at a point within range. Conjure Animals can summon either 4 Swarm of Insects (spiders variant) or 1 Ettercap when used in this way. Additionally, webs created by this effect do not expire and must be destroyed to be removed.
Curse. When you are near spiders you sometimes hear whispers from Lolth herself of things she wants you to do. Additionally, any charges that are not expended by midnight are automatically used at point(s) of the DM's choice within range. Any creatures summoned in this way have no duration and are not under your control, though they will not be hostile towards you unless you attack them.
2021-09-07*
#239
Apollo's Blessed Hide Armor
armor(hide), very rare (requires attunement)
This well-crafted hide armor is a deep red, but does not appear to be dyed by conventional means, and does not have a single blemish or scratch.
Hand of Apollo
Once per short rest you can cast Conjure Volley, Swift Quiver, or Mass Cure Wounds as an action. 
Averter of Evil
While wearing this armor each day at dawn you can choose one type of creature: aberrations, fey, fiends, or undead. Creatures of this type have disadvantage on attacks rolls against you, and you can not be Charmed, Frightened, or Possessed by your chosen creature type until the next day.
2019-06-27
#245
Gungnir
weapon(spear), legendary (requires attunement)
This spear is perfectly balanced, it's shaft made from solid oak, and the tip gleams in the faintest of light. On a successful attack you can choose to deal either Piercing or Radiant damage and on a critical hit it deals an additional 2d6 Radiant damage. While attuned with this spear it has the property Thrown (60/180). If you throw and miss it immediately returns to your hand, but on a successful attack it returns at the beginning of your next turn. Additionally, you score a critical hit on a roll of 16 or higher when throwing this spear. This spear can not be broken except by a deity or avatar of a deity. 
Eyes of Odin
Each of your eyes is able to see things you weren't able to before by closing the other. If you look through your left eye you are able to read all written languages, and if you look through your right eye you can see ethereal and invisible creatures up to 60 feet away.
Curse. When you attune to this weapon you are wracked with immense pain in your right eye and when you are finally able to open it a void filled with stars gazes back from within your socket. When you look through your right eye you see everything as if viewing it from the Ethereal Plane. Your eye can not be restored except by intervention of a deity, but in return you keep the Eye of Odin feature even after un-attuning from this weapon.
2019-06-26
#244
Thread of Theseus
wondrous, very rare (requires attunement)
This ball of golden thread glimmers in the light and while you are holding it you always know which direction is north.  If you tie this thread tightly around an object the thread becomes anchored. When you do this the knot around the anchor, and end of the thread, vanish as if dissolving into thin air. As the ball of thread moves away from the anchor it continues to unravel as if securely fastened, but after a few inches the thread fades into nothing and can not be touched and can not be seen except with Truesight. This ball of thread never runs out as long as you are on the same plane of existence as the anchor. When you quickly yank three times on the ball of thread it activates and becomes taut. When it is activated all thread within 10 feet of the ball of thread becomes visible but still can not be touched, allowing you to trace it back to the anchor, no matter how far it may be.  This thread can only be cut with a silvered weapon or by going to another plane of existence but immediately breaks if the anchor is moved more than 5 feet after the thread is tied. If broken or cut, all unwound thread immediately disintegrates. This thread can only be anchored to one object at a time, and after being activated, cut, or broken, can not be used again for 3d12 days.
2019-06-24
#242
Right Hand of the Reaper
wondrous, very rare (requires attunement)
This glove has a cuff that extends down the length of your forearm and is stitched from a dark-brown supple leather. The tips and pads of its fingers as well as the palm are reinforced with black leather. It has a short silver claw extending out from the tip of the thumb and small silver plates covering the back of each finger. To attune to this item you must wear it for the duration.
This item has 25 charges, and if you have a positive Wisdom modifier it gains an additional number of charges equal to your Wisdom modifier times 5. It regains all expended charges after a long rest. When you make a successful unarmed attack with this glove you can expend a number of charges to deal that much additional Necrotic damage.
Skilled Harvester
When you wield a Sickle it deals 1d6 slashing damage, has the property Finesse, and when you wield it with two hands it deals an additional 1d6 Necrotic damage.
Hand of Repose
While attuned to this glove you know the cantrip Mage Hand if you did not before. Additionally, when you cast Mage Hand it is completely invisible to all except you, and appears as a skeletal hand; It can carry up to 20 pounds and has no duration, lasting until you dismiss it as an action or cast Mage Hand again.
Curse. The moment you finish attuning to this glove the arm you are wearing it on is wracked with pain. You take 1d12 Necrotic damage and your vision extends out into the Ethereal plane despite your body remaining in the mortal plane. You hear whispers around you growing ever closer until your senses return to your body and you become aware of how light your arm is.
While the glove is covering your arm you cant notice any difference, but when you take off the glove you can see that your arm stops in a withered stump. Your arm and hand are gone. When the glove is "worn" where your arm once was you can "use your hand" as normal, but it is incorporeal otherwise.
If you have the feature Lay on Hands whenever you use it you make a Wisdom saving throw (DC 8). On a failure your pools of energy conflict and you must roll 1d10, expending that many charges and dealing that much Necrotic damage to the target creature.
If you dispel the curse on this item it is destroyed and your arm does not return.
2021-04-02*
#144
Shield of Mental Dominance
armor(shield), very rare (requires attunement)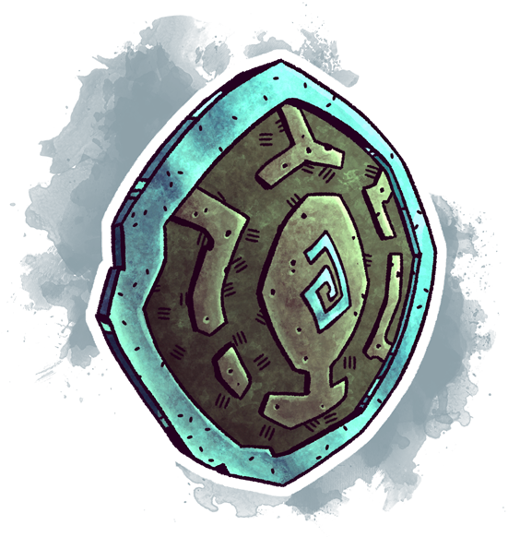 This simple round shield is rimmed with a band of clear crystal that is hard as iron.
While attuned to this shield you have proficiency with Intelligence saving throws if you did not before. This shield has 3 charges that recharge on a long or short rest. While you are wielding this shield as a reaction you can choose to expend a number of charges to activate it at the end of another creature's turn.
Force of Mind
You expend 1 charge to target a creature within 30 feet and make an Intelligence check contested by the target's Wisdom or Intelligence check (the target chooses the ability to use). If you succeed, you knock the target prone and push it 10 feet away from you.
Mental Grasp
You expend 2 charges to instantly cast Hold Person. You use your Intelligence as your casting ability for this feature.
2021-09-07*
#139
Greatsword of Ethereal Displacement
weapon(greatsword), legendary (requires attunement)
This greatsword has a blade of folded steel that shimmers in the light and a hilt adorned with pearl inlays. When you attune to it you feel a faint presence touch your mind and you hear a whisper through your thoughts. The sword can telepathically communicate with anyone touching it, but it seems far away and is barely audible. It asks you for souls, it does not care of what or whom, to be sent to the ethereal plane. Or in simpler terms, for you to kill.
Bloody Displacement
Every time you draw blood with this sword you can feel it's satisfaction. When you successfully hit a creature with this sword you may teleport up to 10 feet, and when you reduce a creature to 0 hit points with this sword you may teleport up to 30 feet. You must teleport to an unoccupied space when you teleport in this manner.
Otherworldly Movement
Once per short rest as an action while holding the sword you can cast Blink.
Planar Beacon
When this sword is driven into the ground it can serve as a destination sigil for a spell such as Teleport or other similar teleport spells. In order to use it as a destination the caster must know the sigil sequence for the sword which the currently attuned creature can teach to anyone they choose. If a creature attempts to teleport to the sword while it is not driven into the ground the spell fails and is wasted.
Additionally, any creature that has touched the sword within the past 24 hours can take a knee and mentally reach out to the sword as an action. If they are on the same plane as the sword, within 1 mile, and if the sword is still driven into the ground from since they last touched it they are teleported to a random unoccupied space within 10 feet of the sword. Any creature teleported in this manner is Incapacitated for 1 minute as they recover from being forcefully shunted through the Ethereal Plane.
Curse. After using any feature of this sword you are Deafened for 1 minute almost as if your sense of hearing hasn't returned along with your body after traveling through the Ethereal Plane.
You are Deafened while on the Ethereal plane and all you can hear is the voice of the sword loud and clear almost as if it is resounding all around you. Your hearing can not return to normal until you leave the Ethereal plane.
2017-01-02
#133
Infernal Keyring
wondrous, very rare (requires attunement)
This rough keyring has 8 keys on it, 3 of which appear to be copies of the same key. From a distance no one would really attach any significance to them, they are just slightly eccentric keys. While you are attuned to and carrying this ring of keys you gain an effect for each key. If you are not a spellcaster the keys use your Constitution modifier as your spellcasting modifier.
1. The first has a thick, almost spherical head, and 3 spikes protruding downward from it, the longest of which is the shaft of the key. This key allows you to cast Fire Bolt.
2. The second is flat and glimmers with an orange tint. The cuts in its shaft are violently spiky, and stick out farther than most keys. This key allows you to cast Produce Flame.
3. The third key is stout and has a bit on both sides of the shaft. It feels warm when you hold it in your hand. This key allows you to cast Create Bonfire.
4. The fourth key has a crooked shaft that you could swear that the pattern of the curves in the shaft changes when you aren't looking. This key allows you to cast Control Flames.
5. The fifth key has a rough texture and 10 holes drilled through its head and shaft. When you take fire damage as a reaction you can have the key take up to 10 fire damage in your stead, before resistances are applied, and store the damage taken. You can not use this reaction again until the energy stored is expended. When you cast a spell or cantrip from this keyring you can choose to expendexpend the stored damage before the DM announces the result of the attack or save, adding it to the damage taken by the first creature hit, if any.
6-8. The last three keys all are shaped the same, but they are larger than the others, and cracked. Flickering light can be seen flowing through the cracks in the keys. Each key has a single charge of Hellish Rebuke that is expended when you cast it and recharges at dawn. The light within the keys ebbs and flows with the charges.
Curse. If you target a fiend with any spell from this item you automatically become the new target for the spell and must roll against yourself.
2016-12-19
#124
Heart of the Mountain
wondrous, very rare (requires attunement by a spellcaster or dwarf)
This item is visibly sculpted to look like a humanoid heart. It has a large ruby depressed into its left side. When you attune to this heart a light within the ruby begins softly pulsating in time with your own pulse, and a soft thrumming can be heard coming from within the stone.
While attuned to this item you must fail 5 death saving throws to die instead of 3.
Additionally, once per day as an action you can choose to cast either Stoneskin or Investiture of Stone on yourself, ignoring concentration. If you are not a spellcaster you use your Constitution modifier as your spellcasting ability for this effect. If you choose Investiture of Stone you gain 1 level of exhaustion as the spell ends.
Curse. While attuned with this item you are vulnerable to thunder damage.
If you un-attune with this item or it is destroyed you immediately drop to 0 hit points and begin making death saving throws. Additionally, you gain 1d4 levels of exhaustion that lasts for 10 days and can only be removed by Greater Restoration.
2016-11-29
#112
Ring of Eldritch Energy
ring, rare (requires attunement by a spellcaster)
This bone ring has a deep purple inlay, and is set with an onyx. While wearing this ring, every short rest you take you gain 1d6+4 temporary hit points.
As a bonus action you can choose to expend all remaining temporary hit points gained in this way to cast Eldritch Blast even if you do not know it.
Additionally, while attuned to the ring you know the cantrip Chill Touch, and can cast it using the ring as a focus.
Curse. Each time you gain temporary hit points from this ring it consumes a hit die. If there are no hit dice to be consumed you take damage equal to the temporary hit points gained, although you can not drop below 1 hit point from this effect.
Permanent Curse. The first time the ring consumes any of your hit points it becomes permanently attuned to your very soul.
The ring dissolves into your finger, the finger withers, and purple veins spider through your hand from the finger. Now when you cast eldritch blast using your temporary hit points it originates from your chest, ignoring verbal and somatic components, but leaves a dull purple mark where it originated. The veins in your hand and the purple mark spread almost imperceptibly each time you do this. After your finger withers Chill Touch can still be cast, also ignoring verbal and somatic components, eminating from your withered finger.
When cursed in this way the curse and attunement can not be removed without destroying the soul of the creature bound to the ring.
2018-03-28*
#94