Watch of Timelessness
wondrous, common
This monotone pocket watch is mesmerizing to a fault. It's somehow cheering though, and as a bonus action you can pull it out to check the time, gaining an extra spring in your step and a +10 bonus to your movement speed for the next minute.
Any creature who checks the time on this watch is momentarily disoriented. They are unable to read a map or discern cardinal directions for the next minute, making it very easy for them to become lost.
2021-04-10*
#9
Type: Wondrous, common (minor)
Subtype(s):
School: Enchantment
Item Created: 2016-04-14
Last Updated: 2021-04-10
Item #: 9
Tags:
Plate Armor of the Spider
armor(plate, half plate), very rare (requires attunement)
This set of deep black and purple plate armor has some spiderwebs in it but otherwise is in pristine condition. This item has 3 charges and all expended charges recharge at dawn.
Arachnid Manipulation
While you are attuned to this armor you are able to convey basic commands and feelings to spiders and spider-like creatures allowing you to cast Command (DC 17) as a bonus action against any such creatures without expending a spell slot. If affected they will try to act in a way that is beneficial to you.
Spider Summoner
As an action you can expend a charge to simultaneously cast Web and Conjure Animals at a point within range. Conjure Animals can summon either 4 Swarm of Insects (spiders variant) or 1 Ettercap when used in this way. Additionally, webs created by this effect do not expire and must be destroyed to be removed.
Curse. When you are near spiders you sometimes hear whispers from Lolth herself of things she wants you to do. Additionally, any charges that are not expended by midnight are automatically used at point(s) of the DM's choice within range. Any creatures summoned in this way have no duration and are not under your control, though they will not be hostile towards you unless you attack them.
2021-09-07*
#239
Greater Charm of the Eye
wondrous, rare
This amulet is three golden eyes hung on a set of three connected chains. A large eye, half closed over a ruby, and two smaller eyes just above it on either side.
While wearing this amulet when you make an opportunity attack against a creature you may make up to two additional opportunity attacks before the beginning of your next turn so long as you do not make more than one opportunity attack against any creature.
Additionally, as a bonus action you can activate the amulet and the two small eyes snap open. When you do so you gain Truesight out to a range of 30 feet for the next 10 minutes. During this time you can not suffer from the condition Blinded. This feature can not be used again until the next dawn.
Curse. When a creature puts this amulet over their head it tightens around their temples and the largest eye snaps open. It cannot be taken off unless the curse is removed and the chains cannot be broken despite their dainty appearance.
While wearing this charm you automatically fail saving throws against being Blinded, and have disadvantage on Wisdom saving throws against Beholders, Death Tyrants and Spectators. If you are charmed by any of these creatures the duration of the charm is permanent unless the curse is removed or the enchantment is broken by Dispel Evil and Good (Break Enchantment).
2018-12-26
#228
Weapon of the Forgotten Pact
weapon(any melee weapon), rare (requires attunement)
This weapon is tarnished and dingy, as if it has been exposed to the elements for far too long, but is not rusted. You can not find its sheath anywhere and its handle is bare metal with no wrapping.
You can activate this weapon as a bonus action. As you activate it you hear a cacophony of jumbled whispers and the weapon seems to almost guide itself towards its target, leaving a sickly blue trail behind it. While it is activated you have a +1 bonus to attack rolls made with this weapon.
After it has been activated for one minute you must make a DC 14 Wisdom saving throw. On a failure you take 1d12 Psychic damage as the voices crowd your mind and your vision flashes white. On a success you take half as much damage. For every minute the weapon is activated you gain an additional +1 to hit with this weapon. However, for every minute the weapon is active you must make another DC 14 Wisdom saving throw, and the damage you take increases by 1d12.
Each time you make a Wisdom saving throw against this weapon's effect you may choose to try to break free from it. On a success you take no damage and the weapon is deactivated. On a failure you are unable to clear the voices from your head and you take damage as normal.
Curse. When you attune to this weapon you make a binding pact with an ancient one. If you die while attuned to this weapon or go unconscious while the weapon is activated your soul will be trapped within the weapon as one of the many voices, and just as all the other souls, you can not be released until a favor for the ancient one has been completed by another person. If you un-attune with this weapon before completing a favor for the ancient one you are certain you will suffer great misfortune.
2017-10-04
#186
Warhammer of Retribution
weapon(warhammer), very rare (requires attunement by a creature with at least 12 Charisma)
This warhammer is more stockily built than most and the sides of its blocky head are covered in silver inlays. As you attune to it you feel a weight come upon you as if you have taken on a great responsibility.
Once per short rest as an action you can slam the hammer to the ground and it begins eminating a crushing aura. For the next minute or until you pick up the hammer, whichever comes first, all creatures within 60 feet of the hammer must make a Strength saving throw at the beginning of each turn equal to 8 + your proficiency + your Charisma modifier. You can choose a number of creatures up to your Charisma modifier to automatically succeed this saving throw. On a failure every foot of movement costs 1 extra foot until the beginning of their next turn and if the creature is an Aberration, Fiend, or Undead they also fall Prone. If a creature that is already Prone fails this saving throw they become Restrained until they are no longer in the aura.
Curse. While attuned to this item you constantly feel a heavy burden on your mind and shoulders, and your movement speed is reduced by 5 feet. If you remove this curse you hear whispered in your mind "those who are not willing to bear the burden are not worthy to wield me", the attunement immediately breaks, and you can never attune to the hammer again.
2019-09-06*
#175
Needle of Bloody Displacement
wondrous, very rare (requires attunement)
This amulet has a compass rose etched into its golden surface. It is stained and tarnished, and at the southern point of the compass rose a spike the length of a finger extends straight down.
As a bonus action you can plunge the spike into yourself. You take 1d4 Piercing damage, and gain charges equal to the damage taken, as the blood flows against gravity into the compass rose and seeps into the etching. The amulet can hold up to 12 charges and loses all stored charges at dawn.
As an action you can expend a number of charges to teleport creatures you can see within 30 feet to another unoccupied space you can see within 30 feet. For each creature teleported you must expend 1 charge for every 10 feet you move them. If the creature is unwilling they must make a Constitution saving throw with a DC equal to 10 + the total charges expended this turn or be teleported against their will.
Curse. If you are magically healed you lose all stored charges in this item. Additionally, every time you use this item to teleport 1 or more creatures it creates a sigil on your skin around the most recent wound from the needle. This sigil has a number of spines radiating from it equal to the number of creatures teleported or 0 spines if you teleported yourself.
When you stab yourself with the needle you take 1 additional Necrotic damage for each sigil on your body. This damage can not be resisted.
Each day at dawn 1d4-1 random sigils disappear if you did not use this item the previous day.
2019-02-14*
#169
Ring of the Sudden Strike
ring, very rare (requires attunement)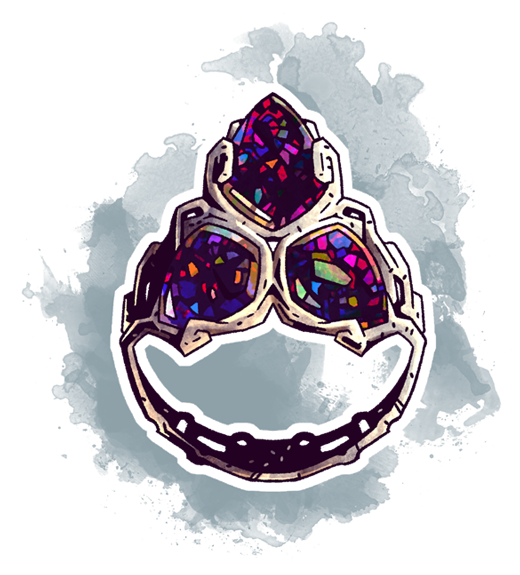 This ring is set with three black opals in an ornately shaped silver band.
Once per short rest at the end of a hostile creature's turn you can teleport to an unoccupied space up to 60 feet away in a puff of purple smoke. You can then make a melee attack with advantage against a creature within reach. Additionally, once per day at the end of a hostile creature's turn you can take the attack action as if it is your turn.
Curse. If you use either of this ring's features the first attack roll against you within the next minute has advantage. If this attack hits you you take an additional 2d8 Necrotic damage.
2017-01-05
#138
Spiderwood Seed
wondrous, very rare (requires attunement)
To attune to this black grape-size seed you must swallow it. Over the course of 1 week a series of wooden growths protrude from your back along your spine. Several of these grow into four limber wooden appendages. As an Attack action you can make a melee attack with one of these limbs as if you are proficient, using either your Strength or Dexterity modifier. On a hit it deals 2d6, plus either your Strength or Dexterity modifier, Piercing damage. This damage counts as magical for the purpose of overcoming resistance and immunity to nonmagical attacks and damage. If you are able to make multiple attacks with the Attack action, this attack replaces one of them.
These limbs automatically regrow 1 minute after being seriously damaged or removed, and are each able to hold objects weighing up to 30 pounds. Additionally, you have a climbing speed equal to half your walking speed, and are able to move your full speed while prone, so long as these limbs are free.
Curse. Once swallowed the seed begins to grow, causing great pain in your upper back. For the next week you suffer 1 level of exhaustion which can not be removed even with Greater Restoration. This seed feeds on your life force in exchange for submitting to your control. Up to 4 hit dice are automatically consumed each day at dawn. Additionally, a hit dice is consumed for each limb that regrows or repairs major damage to itself. If there are no remaining hit dice when a limb repairs itself you take 1d8 necrotic damage. This damage can not be resisted or reduced. If the curse is removed from this item the appendages slowly shrivel, die, and fall off. The attunement is broken, but the wooden knobs on your back remain.
2021-09-07*
#71
Whistle of the Wind
wondrous, uncommon
This wooden whistle hangs from a thick twine and when blown does not produce the expected high shrill.
As a bonus action you can blow through the whistle, seizing the air and compelling it to create one of the following effects.
One Medium or smaller creature within 30 feet must succeed on a Strength saving throw or be pushed up to 10 feet away from you.
You create a small orb of air capable of moving one object that is neither held nor carried within 30 feet and that weighs no more than 15 pounds. The object is pushed up to 20 feet away from you, but is not pushed with enough force to cause damage.
You blow downwards doubling your high jump and reducing any fall damage taken by half until the start of your next turn.
2016-10-28
#67
Matador's Mantle
wondrous, common
The Matador's Mantle is a gaudy short red cape with gilded edges and intricate stitching. As a bonus action while wearing this cape, you can spend 15 feet of movement to move 5 feet without provoking opportunity attacks.
2016-10-17
#48
Satchel of Smoking Stones
wondrous, uncommon
This is a simple leather satchel riddled with scorch marks and tiny holes. When opened it has nothing insde it, but if you reach in without looking you can feel several stones or orbs.
It has 4 charges and regains all expended charges each day at dawn.
As a bonus action you can expend a charge and pull out a fist sized stone that begins to smoke. At the end of your next turn it will shatter with a low crack that can be heard out to 100 feet. It explodes into shards dealing 1d10 piercing damage to all creatures within 5 feet that are not behind 3/4 or full cover. You can throw one of these smoking stones up to 30 feet.
If the satchel is exposed to fire damage a charge is expended and a stone shatters. Additionally, any stone exposed to fire damage immediately shatters.
2021-04-10*
#38
Gentleman's Gloves
wondrous, uncommon (requires attunement)
These white leather gloves always fit perfectly no matter what size your hands are, and can not be dirtied.
A true gentleman never dirties his hands, and these gloves will not attune to you until you do something that would have otherwise dirtied your hands while wearing them.
While wearing these gloves if you are above half hit points you cannot take a bonus action, but you can choose to instead take a bonus action as an action. However, when you drop below half health you are able to take two bonus actions each turn.
2021-04-10*
#33
Pamsprei's Boots
wondrous, uncommon
These calf-height leather boots are slick to the touch and have a light sheen to them. Strangely they never get stuck in the mud or get dirty, everything seems to roll right off of them. While wearing them you have advantage to escape any effect or object that would trap your feet. Additionally, difficult terrain involving mud, or other sticky substances, does not affect you. Be careful while walking on ice though.
2016-06-14
#17