Skull of the Stampede
wondrous, legendary (requires attunement)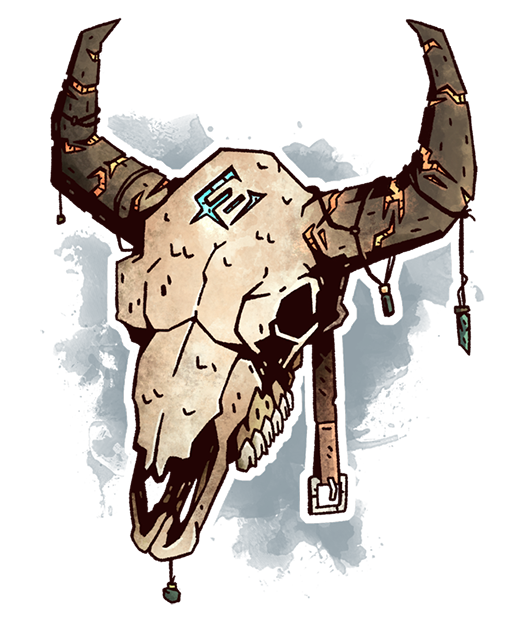 This helmet is made from the skull of a primeval bison and it's horns are covered in runes. While wearing this helmet if you move at least 10 feet in a straight line after taking the Dash action, you begin to stampede. Your stampede ends if you stop moving in a straight line or at the end of your turn. You can stampede multiple times per turn.
While stampeding you have resistance to all damage except Psychic damage. Additionally, while stampeding if you would move through the space of an object or creature that is Large or smaller you can make a melee attack with proficiency against the target. On a hit you deal 3d10 magical bludgeoning damage and the target is pushed 5 feet to the left or right, your choice. On a miss you slam into the target and your stampede ends.
2021-02-28*
#297
Type: Wondrous, legendary (major)
Subtype(s): helmet, armor
School: Evocation
Cost:
500,000 gp
380,000 sp
Item Created: 2020-02-13
Last Updated: 2021-02-28
Item #: 297
Tags:
Decanter of Endless Sand
wondrous, rare
This stoppered flask has a faint, nearly indistinguishable sound when shaken. The decanter weighs 2 pounds. This item has 6 charges and regains all expended charges each day at dawn.
You can use an action to remove the stopper and speak one of three Command words, whereupon sand pours out of the flask and a number of charges are expended. The sand stops pouring out at the start of your next turn. Choose from the following options:
"Pile" expends one charge to create a small pile of sand that can cover a 1-foot-square.
"Dune" expends three charges to create a pile of sand that is 10 feet across and is about 5 feet tall. This sand is expelled with some force, and moves Large or smaller creatures that would be covered by the sand to the edge of the pile.
"Desert" expends 6 charges to create a veritable sea of sand that erupts from the decanter as a 30 foot geyser. This sand covers a a 20-foot circle and is up to 10 feet deep at it's center. Any creature in the radius of the sand is pushed towards the edge of the area until it would no longer be covered by sand, unless it has a burrow speed.
2021-03-13*
#325
Mountain's Core
wondrous, very rare
This dark pebble is etched with minute circular patterns and has a single ridge running around its circumference. When you hold it you feel as if the earth itself is whispering to you, suggesting you swallow the pebble to get closer to it and understand it better. When swallowed, you notice nothing at all for 1d4 days, until you feel a sudden chill and stiffening along your spine. Over the next few minutes your skin darkens and hardens. Fractured plates of stone grow from underneath your skin on your arms, ribs, and jutting along your spine across your back. You gain resistance to piercing, slashing, and lightning damage as well as tremorsense out to 30 feet. Additionally, as an action, if you put your ear to the ground and concentrate as if concentrating on a spell your tremorsense extends out to 500 feet until you move from that spot or lose concentration, whichever comes first.
Curse. Once your flesh has started turning to stone you have vulnerability to Thunder damage. Additionally, while within sight of your bound mountain (that the DM chooses) each morning you hear it whisper to you, calling you to it, and you must succeed on a DC 8 Wisdom saving throw or spend that day compelled to walk towards the base of the peak. This compulsion is not mind control, and you do nothing rash to follow it, but it is a constant distraction and pull while you are not trying to travel towards the mountains. These effects, including your skin's appearance, can not be reversed except by a Wish spell.
2021-08-19*
#314
Boots of Swampwalking
wondrous, uncommon (requires attunement)
These boots are made from a rubbery animal hide and come up to your knees. The soles are especially thick and have a glowing green rune on the heel. While wearing these boots you are able to walk across the top of water, mud, or bog, so long as it is not deeper than 5 feet. If it is deeper than 5 feet you sink until your feet are 5 feet from the bottom.
Additionally, you ignore nonmagical difficult terrain caused by water, mud, or swamps.
2021-03-08*
#307
Marsh Machete
weapon(short sword), rare
This small blade, embellished with a fine script, was forged to venture through the swamps and bogs with ease. This blade deals double damage to plants and plant type creatures. Additionally, you, and any creatures moving directly behind you, are able to ignore difficult terrain caused by plants or brush by chopping at the vegetation.
2021-03-08*
#304
Downy Shield
armor(shield), uncommon
This small polished wooden shield has several tufts of flight feathers tucked behind it and white plumage around it's edge. This item has 3 charges and regains all expended charges each day at dawn.
As an action while wearing this shield you can activate it by tugging on the flight feathers. When you do so two small wings unfurl from behind the shield, granting you a flying speed of 45 feet for the next minute. If you are flying when the duration expires, you descend at a rate of 60 feet per round until you land. If you doff the shield, you lose any flying speed and do not descend slowly.
2021-02-28*
#293
Potion of Reflex
potion, very rare
This potion is carefully concocted out of a mixture of different mushrooms found only in the deepest caves. When you drink this potion for the next 10 minutes your walking speed increases by 15 feet, you have a +5 to Perception checks, you have advantage on Dexterity saving throws, and have up to three reactions which can be used for opportunity attacks.
2021-02-26*
#287
Eldath's Boon
wondrous, very rare (requires attunement)
This necklace has beads made of various different woods, and each type of wood is carved into a miniature replica of that tree's leaf, all strung on a woven cord. Once per turn you can use 10 feet of movement to magically step into one living tree within reach and emerge from a second living tree within 60 feet, appearing in an unoccupied space within 5 feet of the second tree. Both trees must be Large or larger.
Dryad's Pact
Over the course of an 8-hour ritual you can create a bond with a Huge or larger tree and the dryad living within. As long as this tree is alive once per day you can cast one of the following spells without a spell slot and ignoring material components: Commune, which puts you in contact with the dryad also bonded with your tree; Find The Path, if the destination is your bonded tree; or Commune with Nature. If you create a bond with a new tree you may incur the anger of the previously bonded dryad because of your unfaithfulness. If your bonded tree is killed you immediately suffer 5d10 Psychic damage that can not be resisted or decreased in any way.
2021-02-21*
#277
Greater Gauntlets of the Glacier
wondrous, legendary (requires attunement)
These thick leather gloves go all the way up your forearms and cinch tightly above the elbow. The back of the hand is covered in a white filigree that gently spirals all the way up the glove and the palms are chill to the touch.While wearing these gloves you have resistance to Cold damage and even when Restrained, or Grappled by a creature Large or smaller, your movement speed can not drop below 10.
If you grapple a creature with both hands while you are wearing these gloves that creature takes 2d6 Cold damage each turn until they are no longer grappled. If they break the grapple they must roll a Constitution saving throw equal to 10 + your proficiency bonus. On a failure they are Restrained by ice until the beginning of their next turn.
As an action once per short rest you can activate the gloves and small particles of snow begin to swirl around you until suddenly the gloves turn into large gauntlets of blue ice. For the next minute your gauntlets are frozen solid but do not inhibit movement. While your gauntlets are frozen you can not be shoved or pushed magically and any enemy creature that ends their turn within 5 feet of you takes 2d6 Cold damage. Additionally, when you make an unarmed attack you can choose to deal Cold damage instead of Bludgeoning.
2018-02-27
#200