Spiderwood Seed
wondrous, very rare (requires attunement)
To attune to this black grape-size seed you must swallow it. Over the course of 1 week a series of wooden growths protrude from your back along your spine. Several of these grow into four limber wooden appendages. As an Attack action you can make a melee attack with one of these limbs as if you are proficient, using either your Strength or Dexterity modifier. On a hit it deals 2d6, plus either your Strength or Dexterity modifier, Piercing damage. This damage counts as magical for the purpose of overcoming resistance and immunity to nonmagical attacks and damage. If you are able to make multiple attacks with the Attack action, this attack replaces one of them.
These limbs automatically regrow 1 minute after being seriously damaged or removed, and are each able to hold objects weighing up to 30 pounds. Additionally, you have a climbing speed equal to half your walking speed, and are able to move your full speed while prone, so long as these limbs are free.
Curse. Once swallowed the seed begins to grow, causing great pain in your upper back. For the next week you suffer 1 level of exhaustion which can not be removed even with Greater Restoration. This seed feeds on your life force in exchange for submitting to your control. Up to 4 hit dice are automatically consumed each day at dawn. Additionally, a hit dice is consumed for each limb that regrows or repairs major damage to itself. If there are no remaining hit dice when a limb repairs itself you take 1d8 necrotic damage. This damage can not be resisted or reduced. If the curse is removed from this item the appendages slowly shrivel, die, and fall off. The attunement is broken, but the wooden knobs on your back remain.
2021-09-07*
#71
Type: Wondrous, very rare (major)
Subtype(s): consumable
School: Necromancy
Item Created: 2016-11-02
Last Updated: 2021-09-07
Item #: 71
Tags:
Trollsblood Potion
potion, very rare
As an action you can pour this potion over a section of your body that is severely damaged or missing, such as a hand, toes, tail, or even a whole leg. Over the course of 5 minutes the missing or damaged section is completely restored.
Curse. You gain an unnatural interest in fresh humanoid blood after using this potion. Additionally, any of your limbs that have been restored by trollsblood are each cursed as well.  If you do not consume humanoid blood for 30 days, any part of your body restored by the potion shrivels, and become unusable until you consume humanoid blood.
2021-09-30*
#339
Otherworldly Heart
wondrous, legendary (requires attunement)
A dark-purple heart steadily beats inside this small hardwood chest. All creatures within 60 feet of the box can hear a quiet heartbeat, and feel the rhythmic thump deep within them.
Mortal's Fragility
As an action you can point at a creature you can see within 60 feet and force them to make a DC 12 Constitution saving throw as they feel a tremor in their heart. On a failure they take 3d6 Necrotic damage and their hit point maximum is reduced by an amount equal to the damage dealt. On a success they take half as much damage and their hit points are not reduced. This reduction lasts until the creature finishes a long rest. The target dies if this effect reduces its hit point maximum to 0.
A creature with no heart automatically succeeds this saving throw.
Immortal's Resistance
If you are killed while attuned with this heart you are brought back to life at the next dawn as if by the spell Resurrection, even if you are undead. Your body forms around this heart as if it is your own. After being resurrected in this way you can not die to an injury to, or failure of, your heart, though the rest of your mortality is unchanged.
  
Curse. Each time you use the feature Mortal's Fragility if you have a heart and are not undead you must also make the saving throw against taking necrotic damage, though your hit point maximum is not reduced.
Additionally, if you are resurrected by the Immortal's Resistance feature you are now considered undead and have the Sunlight Sensitivity feature: while in sunlight, you have disadvantage on attack rolls, as well as on Wisdom (Perception) checks that rely on sight.
2021-03-27
#335
Mountain's Core
wondrous, very rare
This dark pebble is etched with minute circular patterns and has a single ridge running around its circumference. When you hold it you feel as if the earth itself is whispering to you, suggesting you swallow the pebble to get closer to it and understand it better. When swallowed, you notice nothing at all for 1d4 days, until you feel a sudden chill and stiffening along your spine. Over the next few minutes your skin darkens and hardens. Fractured plates of stone grow from underneath your skin on your arms, ribs, and jutting along your spine across your back. You gain resistance to piercing, slashing, and lightning damage as well as tremorsense out to 30 feet. Additionally, as an action, if you put your ear to the ground and concentrate as if concentrating on a spell your tremorsense extends out to 500 feet until you move from that spot or lose concentration, whichever comes first.
Curse. Once your flesh has started turning to stone you have vulnerability to Thunder damage. Additionally, while within sight of your bound mountain (that the DM chooses) each morning you hear it whisper to you, calling you to it, and you must succeed on a DC 8 Wisdom saving throw or spend that day compelled to walk towards the base of the peak. This compulsion is not mind control, and you do nothing rash to follow it, but it is a constant distraction and pull while you are not trying to travel towards the mountains. These effects, including your skin's appearance, can not be reversed except by a Wish spell.
2021-08-19*
#314
Plate Armor of the Spider
armor(plate, half plate), very rare (requires attunement)
This set of deep black and purple plate armor has some spiderwebs in it but otherwise is in pristine condition. This item has 3 charges and all expended charges recharge at dawn.
Arachnid Manipulation
While you are attuned to this armor you are able to convey basic commands and feelings to spiders and spider-like creatures allowing you to cast Command (DC 17) as a bonus action against any such creatures without expending a spell slot. If affected they will try to act in a way that is beneficial to you.
Spider Summoner
As an action you can expend a charge to simultaneously cast Web and Conjure Animals at a point within range. Conjure Animals can summon either 4 Swarm of Insects (spiders variant) or 1 Ettercap when used in this way. Additionally, webs created by this effect do not expire and must be destroyed to be removed.
Curse. When you are near spiders you sometimes hear whispers from Lolth herself of things she wants you to do. Additionally, any charges that are not expended by midnight are automatically used at point(s) of the DM's choice within range. Any creatures summoned in this way have no duration and are not under your control, though they will not be hostile towards you unless you attack them.
2021-09-07*
#239
Helm of the Hummingbird
wondrous, rare (requires attunement)
This light iron helm is painted in a quickly fading green and has small ivory wings jutting from each side.
Once per short rest as an action you can activate the helm and the wings begin beating until they almost blur and a faint hum can be heard.
When you activate the helmet you can immediately move up to 60 feet in a straight line. As the wind buffets your face you realize you are not teleporting, but actually running to the spot you envision in your mind.
While moving in this way you do not provoke attacks of opportunity and you are able to move across liquids.
The wings keep beating for a while after you activate the helmet, slowly winding down over time. For the next 10 minutes as a reaction on any creature's turn you can gain 1 level of exhaustion to repeat the 60 foot movement. Exhaustion gained this way lasts until your next short rest.
2018-03-29
#202
Warhammer of Retribution
weapon(warhammer), very rare (requires attunement by a creature with at least 12 Charisma)
This warhammer is more stockily built than most and the sides of its blocky head are covered in silver inlays. As you attune to it you feel a weight come upon you as if you have taken on a great responsibility.
Once per short rest as an action you can slam the hammer to the ground and it begins eminating a crushing aura. For the next minute or until you pick up the hammer, whichever comes first, all creatures within 60 feet of the hammer must make a Strength saving throw at the beginning of each turn equal to 8 + your proficiency + your Charisma modifier. You can choose a number of creatures up to your Charisma modifier to automatically succeed this saving throw. On a failure every foot of movement costs 1 extra foot until the beginning of their next turn and if the creature is an Aberration, Fiend, or Undead they also fall Prone. If a creature that is already Prone fails this saving throw they become Restrained until they are no longer in the aura.
Curse. While attuned to this item you constantly feel a heavy burden on your mind and shoulders, and your movement speed is reduced by 5 feet. If you remove this curse you hear whispered in your mind "those who are not willing to bear the burden are not worthy to wield me", the attunement immediately breaks, and you can never attune to the hammer again.
2019-09-06*
#175
Craek's Jumping Stick
wondrous, uncommon
This metal rod is about 4 feet long and straight most of the way down before telescoping to a small metal foot. It has two handles welded to the top that look like they were hacked off of a teapot, and two folding flaps attached just before the shaft begins tapering.
When you press down on the rod the tapering section resists but eventually collapses in on itself as if it has a complex spring mechanism underneath it. As a bonus action you can unfold the flaps and stand on them, one foot on each side of the rod, and as you do so you begin to bounce slightly.
Whenever you jump while riding the jumping stick you add 1d6 to your jump height or length. If this roll is lower than your dexterity modifier you can instead use your dexterity modifier. While riding the jumping stick if you enter rough terrain or fail a dexterity saving throw you automatically fall prone. However, enemies have disadvantage on attacks of opportunity against you.
2018-05-30*
#165
Ring of the Sudden Strike
ring, very rare (requires attunement)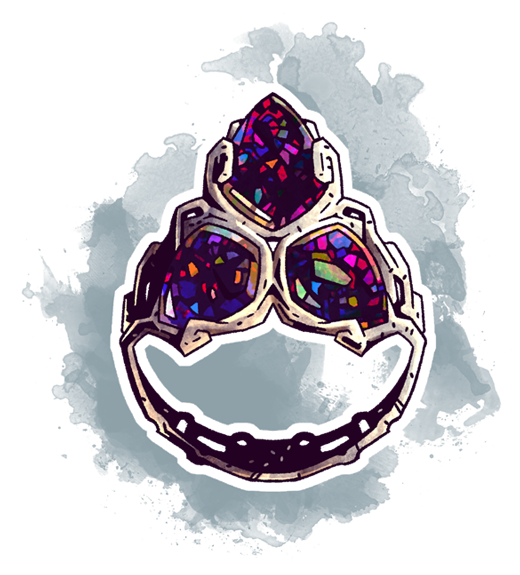 This ring is set with three black opals in an ornately shaped silver band.
Once per short rest at the end of a hostile creature's turn you can teleport to an unoccupied space up to 60 feet away in a puff of purple smoke. You can then make a melee attack with advantage against a creature within reach. Additionally, once per day at the end of a hostile creature's turn you can take the attack action as if it is your turn.
Curse. If you use either of this ring's features the first attack roll against you within the next minute has advantage. If this attack hits you you take an additional 2d8 Necrotic damage.
2017-01-05
#138
Heart of the Mountain
wondrous, very rare (requires attunement by a spellcaster or dwarf)
This item is visibly sculpted to look like a humanoid heart. It has a large ruby depressed into its left side. When you attune to this heart a light within the ruby begins softly pulsating in time with your own pulse, and a soft thrumming can be heard coming from within the stone.
While attuned to this item you must fail 5 death saving throws to die instead of 3.
Additionally, once per day as an action you can choose to cast either Stoneskin or Investiture of Stone on yourself, ignoring concentration. If you are not a spellcaster you use your Constitution modifier as your spellcasting ability for this effect. If you choose Investiture of Stone you gain 1 level of exhaustion as the spell ends.
Curse. While attuned with this item you are vulnerable to thunder damage.
If you un-attune with this item or it is destroyed you immediately drop to 0 hit points and begin making death saving throws. Additionally, you gain 1d4 levels of exhaustion that lasts for 10 days and can only be removed by Greater Restoration.
2016-11-29
#112
Corrupted Hammer of Life
weapon(warhammer), rare (requires attunement)
This warhammer has an unusually large head made of blue tinted steel, and weighs 5 pounds.
On a critical hit with this weapon you deal an additional 2d10 radiant damage. If you score a critical hit against an undead creature you gain half of the radiant damage in temporary hit points as the hammer dimly glows.
Curse. On a critical failure with this weapon all creatures within 5 feet of the hammer, including yourself, must make a DC 15 constitution saving throw or take 2d10 necrotic damage as the hammer hums loudly and crackles with dark energy.
Additionally, while attuned to this hammer you take half healing from spells of 2nd level or lower.
2016-11-17
#97
Ring of Eldritch Energy
ring, rare (requires attunement by a spellcaster)
This bone ring has a deep purple inlay, and is set with an onyx. While wearing this ring, every short rest you take you gain 1d6+4 temporary hit points.
As a bonus action you can choose to expend all remaining temporary hit points gained in this way to cast Eldritch Blast even if you do not know it.
Additionally, while attuned to the ring you know the cantrip Chill Touch, and can cast it using the ring as a focus.
Curse. Each time you gain temporary hit points from this ring it consumes a hit die. If there are no hit dice to be consumed you take damage equal to the temporary hit points gained, although you can not drop below 1 hit point from this effect.
Permanent Curse. The first time the ring consumes any of your hit points it becomes permanently attuned to your very soul.
The ring dissolves into your finger, the finger withers, and purple veins spider through your hand from the finger. Now when you cast eldritch blast using your temporary hit points it originates from your chest, ignoring verbal and somatic components, but leaves a dull purple mark where it originated. The veins in your hand and the purple mark spread almost imperceptibly each time you do this. After your finger withers Chill Touch can still be cast, also ignoring verbal and somatic components, eminating from your withered finger.
When cursed in this way the curse and attunement can not be removed without destroying the soul of the creature bound to the ring.
2018-03-28*
#94
Watch of Timelessness
wondrous, common
This monotone pocket watch is mesmerizing to a fault. It's somehow cheering though, and as a bonus action you can pull it out to check the time, gaining an extra spring in your step and a +10 bonus to your movement speed for the next minute.
Any creature who checks the time on this watch is momentarily disoriented. They are unable to read a map or discern cardinal directions for the next minute, making it very easy for them to become lost.
2021-04-10*
#9